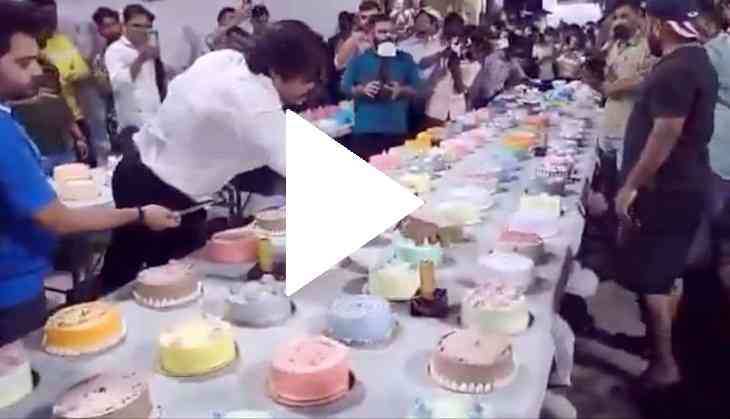 Man cuts over 500 cakes to celebrate his birthday
Birthday is a special moment and everyone wants to make it a memorable day. Some people celebrate their birthday with their family and friends while some planned for grand celebrations. Amid the covid-19 pandemic, limitations have been imposed at a huge gathering for any event.
However, people have been spotted flouting the norms besides warnings by authorities. One such video has surfaced on the Internet wherein a man is seen bizarrely celebrating his birthday in the presence of a huge crowd.
To make his birthday memorable, the man from Mumbai decided to cut 550 cakes.
According to the Zee News report, the video is from Mumbai's Kandivali.
In the video, cakes can be seen on the three large tables and the man named Surya Raturi can be seen cutting 550 colourful cakes of different flavours. As he started cutting the cakes with a knife one by one, people gathered around him also started capturing the unique event on their mobile phones.
Also Read: BJP MLA's son gets slammed for cutting birthday cakes with iPhone; see viral video
Zee News shared the video on its official Twitter handle with a caption that reads, "A man celebrated his birthday by cutting 550 cakes one by one near Mumbai's Kandivali West Station."
During the celebrations, people gathered at the celebrations were seen flouting the corona rules. Meanwhile, the video has gone viral on social media.
Also Read: This hilarious fight video between two women will make you say Eww!
Since the video is being shared on social media, netizens are slamming people for not wearing masks and flouting COVID-19 norms.
Reportedly, locals have also urged local police and BMC to take action against them.