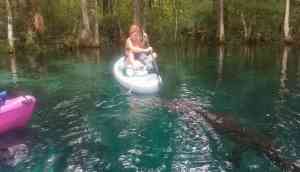 Alligator tries to bite woman's paddleboard
A Florida woman left horrified after an alligator tried to take a bite of her paddleboard. The shocking incident was caught on camera.
The footage was shared by Vicky Reamy Baker on her Facebook account. In the clip, the alligator can be seen moving around the woman when she was on her paddleboard at Silver Springs State Park.
However, the woman started talking to it and managed to fend off the reptile using her paddle.
In one of the clips, the woman can be heard saying, "Get away from me."
Also Read: Horrifying! Alligator grabs woman zookeeper's hand during birthday party; know what happens next
"What are you doing? Get away from me. Oh, s***. NO. Go away," Baker saying to the gator while shooing away it.
The stubborn alligator made another attempt biting the paddleboard of Baker. On which she said, "Why are you messing with me? Why are you trying to bite me? What the heck man!"
Once again, the woman took the help of her paddle to push the gator away from the board. During her encounter with a gator, a voice on the loudspeaker was heard saying, "Mam, I would suggest backing up after you just made him pretty mad."
Baker shared the videos with a caption, "Gator tried to eat my board. Someone has been feeding him and made him very dangerous. He was a big boy."
Watch Video:

The viral video has garnered over thousands of views and over 200 shares. Baker's friends and followers flooded her comment box with various amusing comments.
One of the users wrote, "Look how close YOU are to him. If you cant handle what is going to be in Florida waters then dont get in them. That gator was calm. He didnt try to attack you. And now he will be euthanized because of YOUR incompetence."
"When did he try to attack you? He was just hanging out," another asked.
A user commented, "That gator is minding its own business and you need to be fined"
Also Read: Jaguar dives into water to catch crocodile; know what happens next in this viral video