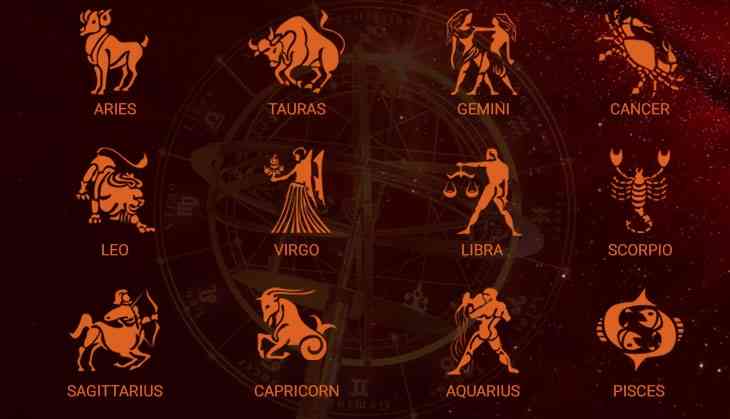 1. ARIES
Your stars will urge you to focus on your finances and savings, and today, you might remain very busy doing just that. But take care, says Ganesha, you don't want a sulking spouse when you go home. Don't cancel any plans; go ahead and enjoy that new film.

LUCKY COLOUR- ORANGE
LUCKY NUMBER- 3
2. TAURUS
Today all you close relationship will seek for your attention and it is your duty to fulfill their wishes because along with your work they too are important. At your workplace, things will be smooth and you will be busy ith a lot of work and responsibilities and this is because your seniors trust you and your work.
LUCKY COLOUR- WHITE
LUCKY NUMBER- 2
3. GEMINI
Today is a day when you need to focus a lot on your health because it is something that should be given utmost attention. You are ignoring your health from quite a long time and this can be seen from your condition. Head out for a walk or sit in a calm place to meditate which will also help in relieving the stress.
LUCKY COLOUR- GOLDEN
LUCKY NUMBER- 8
4. CANCER
You will finally agree to the fact that diet and exercise are a must, and you especially need to take good care. Today, you may wish to eat something different but you should opt for something that is healthy and tasty at the same time. Start going out for a walk which will rejuvinate you and will keep you healthy.
LUCKY COLOUR- GREY
LUCKY NUMBER- 4
5. LEO
You might discover that someone close to you, a family member perhaps, could use a hand today. Chances are good, too, that he or she won't ask for help out of pride. Don't let that stop you, though. If you recognize a situation where you can be of assistance, go for it.
LUCKY COLOUR- YELLOW
LUCKY NUMBER- 5
6. VIRGO
Today is a day when you need to work on your health more. Get a health check up done and visit a doctor to get relief from all those tention of yours. Join a yoga class or take join a gym to stay fit because your health is more important than any other work of yours. Your family too will be worried about you and so it is high time when you should get serious about your health.
LUCKY COLOUR- VIOLET
LUCKY NUMBER- 8
7. LIBRA
Just watch out for that urge to make small, critical remarks that appear helpful to you, but that may rub others the wrong way. Do something physical. You need to keep the rust out of your system with a regular exercise routine.
LUCKY COLOUR- PEACH
LUCKY NUMBER- 7
8. SCORPIO
The world around you will conspire and will make you go out on a trip with your close friends. This trip will be a game changer for you as during the course of the trip you will get to know yourself more and will introspect to know the realities behind the harsh world. Your level of intuition is very high today, so whatever you dream of doing, give it some serious thought.
LUCKY COLOUR- RED
LUCKY NUMBER- 2
9. SAGITTARIUS
You will have to get more responsible at you workplace because you seniors are keeping a watch on what you are doing. On the personal front, you will also feel that the emotional connect between you and your partner is decreasing and so you will work hard to reduce that gap.

LUCKY COLOUR- BROWN
LUCKY NUMBER- 6
10. CAPRICORN
Your day will be spent in the company of your near and dear ones who might gather at your place. Show them your cooking and hosting skills and become the star of the party tonight. Your work at your office will be all smooth and everyone will be impressed by the way you with things at your office and at your work.
LUCKY COLOUR- DARK GREEN
LUCKY NUMBER- 1
11. AQUARIUS
You take care of yourself like you're an extremely valuable object of art, and for good reason. People respond to this well-deserved self-confidence by finding reasons to hang around you. While they're digging your beauty, check out some art together.
LUCKY COLOUR- VIOLET
LUCKY NUMBER- 1
12. PISCES
Today your focus will be on your loved one. You will be full of positive vibes and energy and this is what will keep you all going. Don't be surprised by the rude behavior of your seniors because like you, they too have work pressure. It will be a great day for the people who are in love and that is why you should pop the question to your partner.
LUCKY COLOUR- NEON GREEN
LUCKY NUMBER- 5