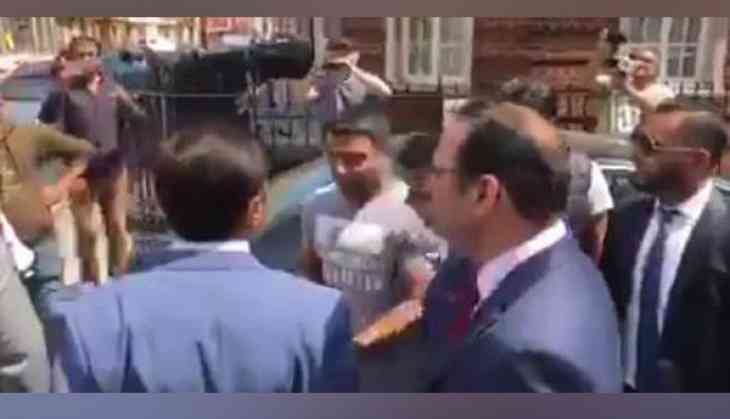 A group of youth, allegedly from Pakistan Tehreek-e-Insaf (PTI) UK chapter, attempted to break in the Avenfield residence of Pakistan's former Prime Minister Nawaz Sharif in London on Sunday.
There were heated arguments and clashes between the two groups on the London streets.
The protesters also attempted to break down the doors of Sharif's Avenfield residence, according to Geo TV.
An angry youth tried to block Sharif's path and threw a trolley in a fit of rage at a member of PML-N UK chapter, Aijaz Gul, shouting abusive language. However, Gul saved himself by catching the trolley in his hand.
The British Metropolitan Police arrived at the scene and immediately began a search operation of the vehicles stationed near the Avenfield House.
The police said that the demonstrators possessed weapons, especially knives. They added that legal action will be initiated over the destruction of private property, according to the GEO TV report.
Later, the PTI-UK strongly condemned the attack and denied involvement of party workers in the attacks.
However, PML-N UK president Shakoor Khan has accused that the protesters belonged to a rival political party.
In a tweet, the PTI-UK clarified that the youth were Pakistanis who were protesting against Sharif for his involvement in the Avenfield reference case and were not workers of the party.
No arrests have been made so far and an investigation is underway.
On July 6, Sharif was sentenced to 10 years of imprisonment and a fine of eight million pounds was slapped on him in the Avenfield reference case while his daughter was sentenced to seven years of
jail and fined two million pounds by the accountability court.
Sharif's son-in-law Captain (retired) Muhammad Safdar was sentenced to one year of imprisonment.
He was arrested by the National Accountability Bureau (NAB) after he appeared at a Pakistan Muslim League-Nawaz (PML-N) rally in Rawalpindi.
While appearing for the rally, Safdar said that he was here to court arrest among his supporters, according to Geo TV.
He was presented in an accountability court in Islamabad by the NAB and was later shifted to Adiala Jail in Rawalpindi.
Meanwhile, Sharif's daughter Maryam Nawaz on Saturday said she and her father will return to Pakistan on July 13.
The Sharif family is now all set to challenge the verdict.
General elections in Pakistan is scheduled to be held on July 25. There are widespread allegations of Pakistan Army's involvement in providing support to Imran Khan-led PTI party.
--ANI)