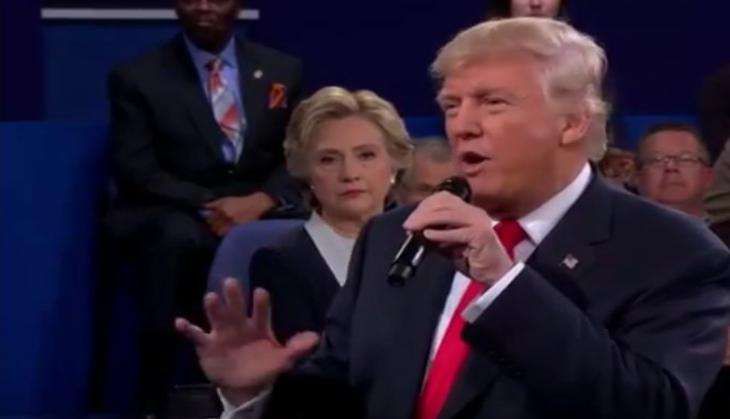 Questioning the legitimacy of US Presidential election, Republican Party nominee, Donald Trump said that the contest was rigged and have said that his opponent, Hillary Clinton was on drugs in the last two US presidential debates.
"The election is being rigged by corrupt media pushing completely false allegations and outright lies in an effort to elect her president," Associated Press quoted Trump as saying.
Trump has also demanded that there should be a drug test ahead of the next US presidential debate.
Earlier on Saturday, Donald Trump took to Twitter to attack Clinton saying that she should have been in the jail but was instead running for president in "rigged" elections.
Hillary Clinton should have been prosecuted and should be in jail. Instead she is running for president in what looks like a rigged election

— Donald J. Trump (@realDonaldTrump) October 15, 2016
Referring to all the sexual assault allegations, Trump went to slam the media asserting that they were pushing out "fabricated" stories against him.
Also Read: US polls 2016: Donald Trump terms sexual assault allegations as absolutely false
100% fabricated and made-up charges, pushed strongly by the media and the Clinton Campaign, may poison the minds of the American Voter. FIX!

— Donald J. Trump (@realDonaldTrump) October 15, 2016
This election is being rigged by the media pushing false and unsubstantiated charges, and outright lies, in order to elect Crooked Hillary!

— Donald J. Trump (@realDonaldTrump) October 15, 2016
Donald Trump has also dismissed all the allegation of sexual assault terming them as "absolutely false.
Jessica Leeds, 74, accused the businessman of groping her on a plane while Rachel Crooks alleged the Republican nominee kissed her outside an elevator in Trump Tower when she was a 22-year-old receptionist in 2005.
Addressing a gathering in Florida's West Palm Beach, Trump termed the women, who accused him of sexual misconduct, as "horrible liars".
Trump drew flak from several quarters after the leak of a 2005 video, where Trump can be heard telling TV personality Billy Bush about how being a celebrity makes it easy for him to grope and kiss women.
Meanwhile, the CNN/ORC poll of debate watchers said Clinton was the clear winner in the second debate, with 57 per cent saying Clinton won as opposed to 34 per cent for Trump.
CNN said it was a strong showing for the 68-year-old former secretary of state, but not as good as her performance at the first presidential debate, when 62 per cent of debate watchers said she won.