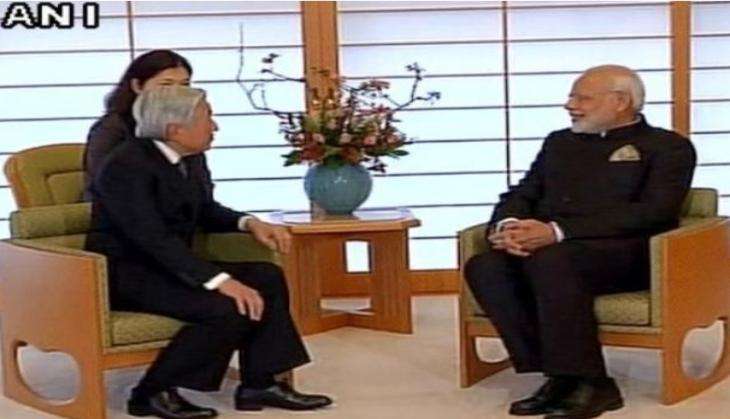 Prime Minister Narendra Modi, who arrived in Tokyo on 10 November, on a three-day visit, met Japanese Emperor Akihito on 11 November, where they discussed the common bonds between their nations and deliberated on the future of Asia.
"Speaking of civilizations. PM @narendramodi and Emperor Akihito talk of the common bonds of #IndiaJapan and the future of Asia. A rare audience that symbolizes the unique warmth between #IndiaJapan. PM @narendramodi greets His Highness Emperor Akihito of Japan," Ministry of External Affairs (MEA) official spokesperson Vikas Swarup said in a series of tweets.
Also Read: PM Modi reaches Tokyo to hold summit talks with Japanese counterpart
Later in the day, Prime Narendra Modi will have wide ranging talks with his Japanese counterpart Shinzo Abe at the11th India Japan annual summit in Tokyo which will include security, trade and investment, skill development and infrastructure development.
Several agreements will be signed after talks between the two leaders.
Prime Minister Modi, who arrived in Tokyo last night will also address Japanese business leaders.
Also Read: Here's Prime Minister Narendra Modi's plan as he leaves for a three-day visit to Japan
Bilateral trade at 14.51 billion dollars witnessed a decline of about 6.5 per cent in 2015-16 as compared to 2014-15.
India's export to Japan was 4.66 billion dollars while import stood at 9.85 billion dollars.
Also Read: India, Japan likely to sign nuclear deal during PM Modi's three-day visit
Prime Minister during his talks with Abe and Japanese business community may try to address this downward trend in bilateral trade.
-ANI