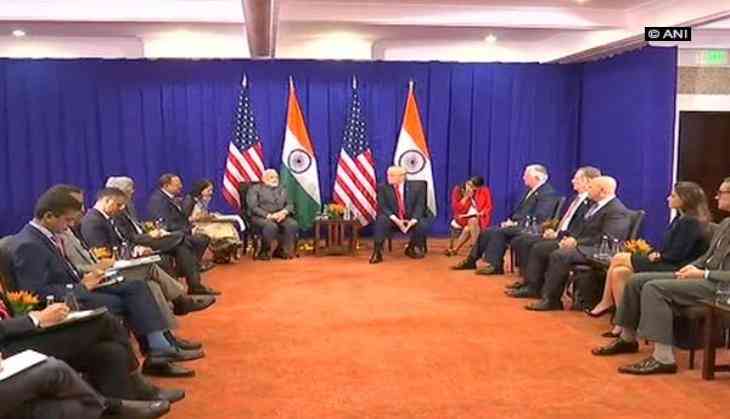 Prime Minister Narendra Modi underscored the growing and deepening relations between India and the United States, as he addressed the media after holding bilateral talks with United States President Donald Trump on the sidelines of the 31st ASEAN Summit in Manila, Philippines, on 13 November.
"The relations between India and the US are growing. Our relations go beyond. We are working for future interests of Asia and humanity." PM Modi said.
"I would like to assure you that we will come good on the expectations that the world and the US have with India," he added.
Also read: ASEAN Summit: PM Narendra Modi, Donald Trump hold bilateral talks
"It's an honour to meet you again," Trump told PM Modi.
"He's become a friend of ours. He's doing a great job. A lot of things were solved and we will continue to work together," Trump further said about Prime Minister Modi.
The prime minister arrived in the Philippines capital on Sunday for a three-day visit during which he will also attend the 12th East Asia meet on Tuesday.
This is the fourth meeting of the two leaders in this year.
Prime Minister Modi and Trump met briefly at a gala dinner on Sunday, and held discussions on counter-terrorism, trade and the security situation in the Indo-Pacific region.
They earlier met when PM Modi visited the US and next, at the G20 Economic Summit.
Reportedly, the two leaders didn't share a hug this time, unlike their earlier meetings.
Earlier in the day, President Duterte and his wife Honeylet Avancena welcomed the world leaders at the opening ceremony of 31st ASEAN Summit in Manila.
Prime Minister Narendra Modi also arrived there and shook hands with President Duterte here.
Among the highlights of the opening ceremony was a music and dance excerpt from the musical Rama Hari, based on the characters of the Ramayana, an epic narrative that is a shared heritage among the ASEAN member states.
The performers were Arman Ferrer and Lara Maigue, vocal soloists, Ballet Philippines, choreographed by Alice Reyes, with the Philharmonic orchestra conducted by Herminegildo Ranera.
Prime Minister Modi later visited the International Rice Research Institute in Los Banos, Philippines, earlier in the day, and inaugurated the Resilient Rice Field Laboratory, named after him.
He also took time out from his engagements to meet with a nine-year-old boy from the Bulacan province of the Philippines.
The boy, Carlo Migel Silvano, is one of thousands of Filipinos fitted with a rubber-based prosthetic leg for people with below-knee amputations, famously known as the 'Jaipur Foot'.
"My young friend told me that he wanted to be a policeman. I am glad to see the Jaipur Foot giving wings to the aspirations of many youngsters like him," the prime minister said, after the meeting.
Prime Minister Modi is also scheduled to meet the members of the Indian community at a reception to be hosted by the Indian envoy in Philippines.
-ANI