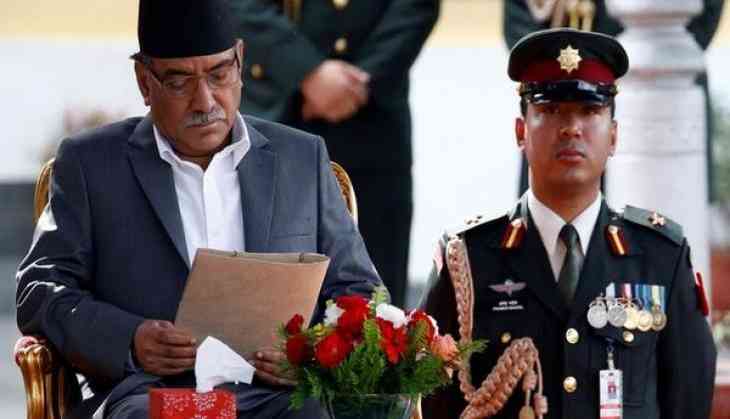 Nepal Prime Minister Pushpa Kamal Dahal
Nepal Prime Minister Pushpa Kamal Dahal reportedly submitted his resignation to President Bidhya Devi Bhandari on Wednesday, thus paving the way for Nepali Congress Chief Sher Bahadur Deuba to become the next premier as per an understanding the two leaders had reached in August 2016.
The ruling parties -Nepali Congress and CPN(Maoist-Centre)-Prachanda entered into an understanding according to which Prachanda was supposed to quit the top post for the NC President to lead the coalition government.
It will take over two weeks for the new Prime Minister and Cabinet to take over .
President Bidhya Devi Bhandari will call upon all the parties to form a consensus if there is a failure to form a new government on the basis of majority.
Initially, the prime minister was to address the parliament yesterday and announce his resignation, but it was postponed because of the adjournment of the House after the main opposition CPN-UML's lawmakers obstructed the House meeting.
CPN-UML's lawmakers are protesting against the government's decision to increase the number of local units in Tarai districts .
There is wide spread speculation that the CPN- Maoist Center will betray the Nepali Congress if the opposition CPN- UML (Communist Party of Nepal- Unified Marxist Leninist) leaves the post of Mayor of Bharatpur to the Maoist Center.
Prime Minister Pushpa Kamal Dahal's daughter Renu Dahal is vying for the post of mayor.
It is said that the CPN-Maoist Center will endorse CPN-UML candidate Bamdev Gautam, former minister for home affairs in the K P Oli led cabinet, as next Prime Minister.
This was rejected Maoist Center Spokesperson Bhusal, who claimed that Maoist Center will support a Nepali Congress led government.
"Whatever the talks about the agreement for the exchange of post of Bharatpur Mayor post for Maoist Center with the post of Prime Minister for CPN-UML is false. Maoist Center will go with the government formed under the leadership of Nepali Congress and there is no doubt that we will support Nepali Congress in forming new government," Bhusal stressed.
-ANI