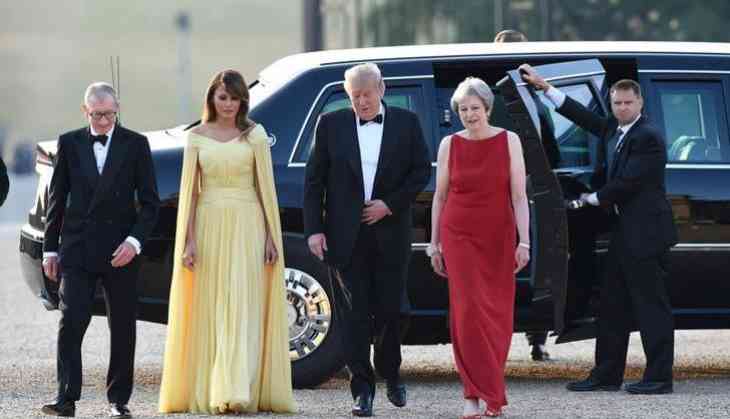 British Prime Minister Theresa May welcomed US President Donald Trump and his wife Melania to Blenheim Palace with a lavish black-tie dinner on the first day of his UK visit.
The US first couple were given a red carpet reception.
The dinner, with 150 invited guests includes dignitaries and government employees.
A report in Vanity Fair read, "She wore a buttercup gown with shoulder capes that says, "I'm the princess now." It's very Beauty and the Beast, which, well, are we tired of sartorial metaphors yet?"
As the US first couple ascended the stairs to the palace, Trump once again clasped May's hand, while Melania walked hand-in-hand with May's husband Philip.
Blenheim Palace is the only palace in Britain that neither the monarchy nor the church own.
The US president is on a seven-day, three-nation European trip.
Air Force One touched down at Stansted Airport shortly before 2 pm (local time) on Thursday.
Trump arrived in the UK for his working visit after concluding the two-day NATO Summit in Brussels.
--ANI