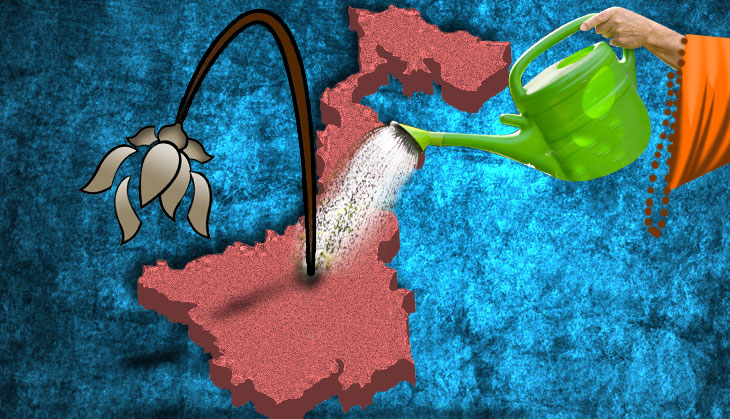 BJP notched up its best performance in Bengal came when the national party secured 3 seats in the state assembly.
The constituencies that went to the BJP are Baishnabnagar in the Malda-Bangladesh border (margin 4,497 votes), Madarihat in North Bengal (margin 22,038 votes), and significantly, BJP state president and former RSS organiser Dilip Ghosh won from Kharagpur Sadar, the railway township, with a margin of 6,309 votes.
Also read -GJM triumph: Darjeeling hills vote for Gorkhaland, reject Mamata's TMC
Though BJPs vote share has gone down from 17% in 2014 general election to 10.2% in 2016, they have improved their tally from 1 to 3 seats in the Assembly.
What made them click? The answer is RSS.
When this correspondent visited Baishnabnagar, at least two people stated that RSS sadhus had started preaching in the border regions. The entry was easy for them.
This region is known for various illegal activities like fake currency, opium and arms trade and somehow local people had already started identifying the region as a hotbed of anti-national activities. A few people even told us how "people involved in such activities don't understand that they cause harm to the country".
Eventually, a source in NIA Kolkata, also confirmed that sadhu visits and preaching in the region has increased.
Baishnabnagar is a part of Kalichak block, which saw major rioting about five months back. There was widespread mayhem, and many Hindu households and temples were attacked. Needless to say, this gave a sudden scope of consolidation for the BJP, subtly aided by RSS.
In Madarihat and Kharagpur Sadar, BJP had a lead of 23,968 votes and 11,017 votes respectively in 2014 general election. Interestingly in Kharagpur Sadar, Dilip Ghosh defeated ten time MLA Gyan Singh Sohan Pal of the Congress.
Also read -Worry in victory: how TINA factor contributed to TMC's landslide
Though the BJP won just 3 seats, it could emerge as a major force in Bengal. The 2016 verdict establishes a few facts - the Left seems down and out, Congress has momentarily benefited but it may not be able to emerge as the main alternative.
Can BJP fill this vacuum? They have a good chance.
During Modi's rally at Shahid Minar ground a month back, BJP workers - from Uluberia to Baruipur- had told us that RSS is slowly repackaging Bengal BJP. First, they started with the state president (replacing Rahul Sinha with Dilip Ghosh, an RSS organiser who has worked in Andaman) and after the elections, changes in portfolio will be seen from the district to block level.
They were confident that RSS' organisation skills would help them to reap major electoral advantage in next panchayat elections.
Even the BJP workers rued the fact that the state BJP has no discipline, there is a lot of infighting and a 'Congressi' culture has percolated into the state unit. Time had indeed come for RSS to handle the situation. BJP foot soldiers wanted it.
More in Catch -How Left lost ground & Congress stole a march over it in Bengal
Bengal: Left's debacle is merely a symptom of the deeper rot