Somi Das
| Updated on: 14 February 2017, 5:59 IST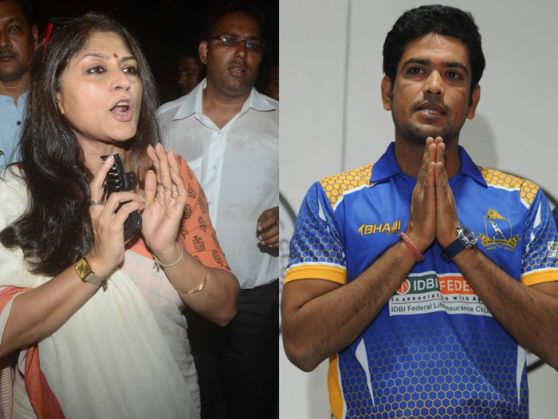 BJP doesn\'t see Roopa Ganguly just as a campaigner but a person with leadership qualities.
Ganguly has been at the forefront when it comes to attacking the TMC on issues like women\'s safety and the Jadavpur sloganeering.
Will TMC\'s Laxmi Ratan Shukla be able to trump Ganguly just on the basis of star power?
With the clash between actor Roopa Ganguly and Bengal cricket stalwart Laxmi Ratan Shukla, Howrah Uttar is set to see one of the most glamorous and high-profile contests in the West Bengal elections.
The duo have a lot in common. Both are young. Roopa is 49 and Laxmi Ratan Shukla, 34. One is an award-winning actor who we still remember as Draupadi from the popular telly series Mahabharata. The other is a star cricketer. Both have star appeal and are new to politics.
Currently, the Howrah Uttar seat is occupied by Trinamool Congress MLA Ashoke Ghosh, who was elected for two consecutive terms in 1982 and 1987 as a Congressman. After joining the TMC, he wrested the constituency from the Left.
But with these two new faces in the fray, it is difficult to predict who Howrah North will eventually choose.
Roopa Ganguly: From the demure Draupadi to an aggressive campaigner
Reports suggest that Ganguly wasn't very happy with the seat as she would have preferred one in Kolkata. But the BJP leadership thought otherwise.
The party doesn't merely perceive her as a star campaigner who will add a dash of glamour at rallies but as someone with solid leadership qualities. The fact that she was made president of the Mahila Morcha within a year of joining the party speaks volumes about her her efficacy. The idea of pitting her against Shukla, a veritable newcomer, stemmed from ensuring her tenure with the party.
The BJP made some strides in Howrah during the 2014 Assembly elections. BJP candidate George Baker polled close to 2.5 lakh votes coming third with a narrow difference of 5000 votes with the second contender, CPI(M). The fact that Howrah has a substantial Hindi-speaking population might also help the BJP score here.
Read More: Can RSS man Dilip Ghosh, 51, trump serial winner Gyan Singh Sohanpal, 91?
Ganguly has proven to be an able campaigner. She aggressively campaigned the Kolkata Municipal Corporation polls in Kolkata in April 2015.
The party, in fact, intended to put her forward as a contender for the Mayor's position. But her candidature was rejected by the Election Commission due to a technical problem. Despite that, she campaigned for the party in full swing. She captured attention when she led the BJP's bike rally during the municipal elections. She was allegedly attacked by TMC workers while campaigning at the time.
That the TMC did go on to score a landslide victory in the civic elections, bagging 114 of the 144 wards, and won 69 of the 91 civic bodies in districts across West Bengal, is a different story.
Ganguly proved her mettle as a campaigner with her 10-day march from Kamduni to Kakdwip in February with around 600 participants to protest "atrocities" on women in Bengal.
Many leaders from Delhi - including Meenakshi Lekhi, Kailash Vijayvargiya and Union Minister Babul Supriyo - backed her. She managed the crowd like a seasoned politician and put the issue of women's safety firmly on the state's political agenda.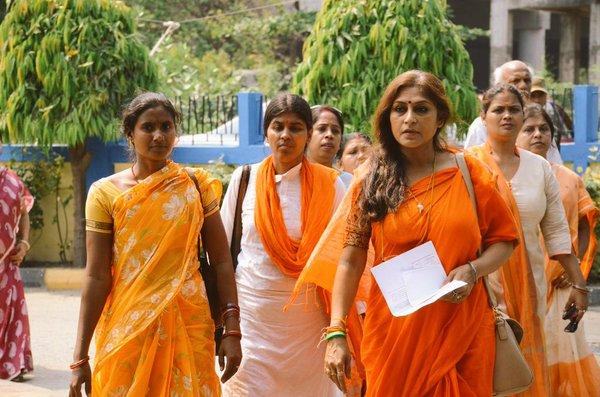 She has also been at the forefront attacking the TMC on the issue of alleged "anti-national" sloganeering in Jadavpur University and the Narada sting operation that caught prominent TMC leaders accepting bribes.
When asked about her opinion about Shukla, she told the media:
"All I have to say is that contesting an election as a member of Trinamool at this point, given the law-and-order situation of our state, the recent scam and everything put together, I really doubt his intentions." (Source: The Telegraph)
Shukla: Mamata's star campaigner
Shukla retired from cricket in December, 2015. Within two months, he joined the Trinamool Congress. He was inducted into the party by West Bengal Chief Minister Mamata Banerjee amid much fanfare along with two other high profile personalities - CPI(M) leader Abdur Rezzak Mollah, and late cricket administrator Jagmohan Dalmiya's daughter Vaishali Dalmiya.
As a cricketer, Shukla played three One Day Internationals in which he scored 18 runs and picked up a wicket. However, it was his domestic cricketing career in Bengal spanning 18 years that made him a popular figure within the state. Shukla also played for IPL franchises KKR, Daredevils and Sunrisers.
Read More: West Bengal elections: Left announces 84 candidates, 11 seats overlap with Congress' choice
However, unlike Ganguly, who had to work hard to get a BJP ticket, Shukla has little or no political work to show for himself. Will he be able to sway voters only on the basis of star power? Let's wait and watch.