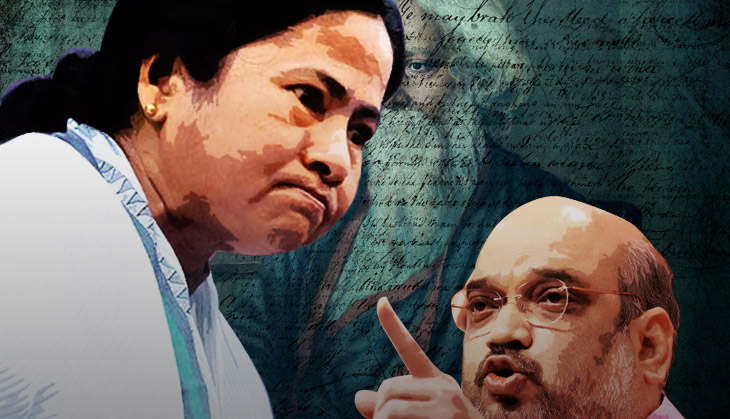 Strange as it may appear, the latest ammunition in Bengal's ongoing poll slugfest is the soulful Rabindrasangeet. Chief Minister Mamata Banerjee is at daggers drawn with Bharatiya Janata Party (BJP) president Amit Shah, for apparently having "insulted" Rabindranath Tagore.
At a press conference in Kolkata on 29 March, Shah said: "Only the bomb-making industry has come up in West Bengal in the last five years. And the sound of Rabindra Sangeet is getting suppressed because of those bomb blasts." Some may argue that Shah's comment, less of an insult to Tagore, was more of a dig at Banerjee for allowing criminal and violent activities to flourish on her watch.
The Chief Minister however is known to be prickly to any reference that she may deem ambivalent or outright uncharitable - to a pantheon of Bengali icons - ranging from Vivekananda, Ramakrishna Paramhansa to Khudiram, Tagore and Nazrul. After taking charge of the state five years ago, she had swiftly named Kolkata's Metro stations after these famous personalities and ordered Rabindrasangeet to be played at traffic lights.
Predictably, Shah's very mention of her favourite music - Rabindrasangeet - set Banerjee on a warpath, guns blazing. "I heard he (Amit Shah) has said something about Rabindranath... People of Bengal do not forgive anyone who insults great poets like Rabindranath Tagore and Nazrul Islam," she said at an election rally in Purulia. The Chief Minister also took the opportunity to blast the CPI-M for disrespecting Tagore and then "suffering" for it.
The Shah-Banerjee exchanges - unfortunately - are now firmly lodged as part of a larger genre of political-comedy that has become so unique to Bengal's political conversations. Caught in a political quagmire, Bengalis, it may be argued, are left with their proverbial sense of humour to fall back upon, if only to reclaim sanity. And fortunately for them, whatever other product the state may be in short supply of, humour has never been one of them.
Bengal, after all, was home to the famous poet Sukumar Ray, author of the fabled collection of children's poems and rhymes - Abol tabol - which in Bengali literally means nonsense. "But there is little of the intangible in his combination of the stork and tortoise that make a stortoise or the unhappy hornbill with no horns who merges with a deer and no longer mourns," wrote Paramita Pain in her review of the Abol Tabol: The Nonsense World of Sukumar Roy, in The Hindu.
It's not an exaggeration to say that the verbal exchanges among the political classes of Bengal have come to sound more and more like Rays Abol Tabol, though sans their sharpness or metaphysical interpretations. Recently in the Budget session of Parliament, two senior MPs from rival parties - Saugata Roy of the Trinamool Congress and Mohammed Salim of the CPI-M - were seen openly hurling abuses at each other.
"Tui chor, Tui chor" (you are a thief) they shouted across the aisle, during a discussion over a media sting - popularly known as the Narada tape controversy - revealing several top TMC leaders allegedly accepting bribes in exchange for government favours. Tui is an informal Bengali form of casual address mostly used among people who are extremely familiar with each other. The deliberate use of Tui by the two Parliamentarians was revealing of their mutual keenness to resort to public insults rather than engage in a civilised debate.
Watermelons and pumpkins
If this is the comic - or as some would say - the tragic narrative being scripted inside Parliament, no less tragicomic are the poll scenes unravelling in the streets of Bengal. Of late, TMC and CPI-M leaders have been witnessed biting into watermelons and pumpkins to score political points against each other.
Watermelon or tormuj as the fruit is called in Bengali, is green on the outside and red within – the colours of the Congress and the CPI-M, according to the TMC. Appearing on a television channel, senior TMC MP Derek O Brien blasted the CPI-M-Congress alliance, saying: "This is the Congress party in Bengal - green on the outside and red on the inside - Congress Party in India (Marxist). It's a shameless alliance."
Not to be outdone in the fruity race, the CPI-M and the Congress have pressed into service the vegetable kumro (pumpkin), which is green on the outside and saffron inside. In other words: the colours symbolic of the covert TMC-BJP understanding.
Regardless of their disgust at such electoral trivia swirling around them, people in Bengal can still laugh at them - even if only because of the traditions of nonsense humour bequeathed to them by Sukumar Ray.
What better way to cope with contemporary Bengal's political theatre of the absurd than to view the unravellings through the prism of Ray's Abol Tabol, where the characters talk gibberish and play a whimsical game.