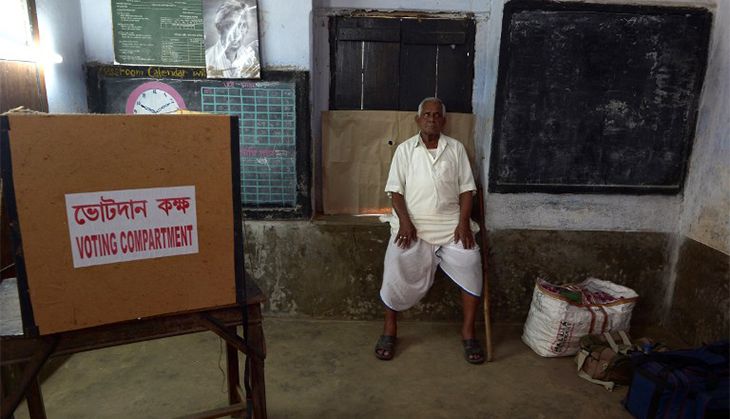 The fifth phase of the West Bengal assembly elections witnessed 38.15 percent voter turnout till 11 a.m. The voter turnout recorded till 9 a.m. was 19.64 percent.
Several prominent personalities like former Indian skipper Sourav Ganguly, BJP's Chandra Bose and CPM's Mohammad Salim cast their votes.
Trinamool Congress MP and spokesman Derek O' Brein, after casting his vote from Ballygunge constituency expressed confidence of his party's win in the election.
Amidst polling, a civic police volunteer died after a bomb was hurled by unidentified people in Murshidabad's Beldanga in early morning hours.
A clash broke out between the workers of the Trinamool Congress (TMC) and the Communist Party of India (Marxist) in the Arambag area of West Bengal's Hooghly. One CPI (M) worker is said to be injured in the incident.
Amid tight security, the fifth phase of the West Bengal assembly elections for 53 seats in 24 Parganas Dakshin, Hooghly and Kolkata Dakshin districts began here today at 7 a.m.
The polling is being held for 31 constituencies in 24 Parganas Dakshin, 18 in Hooghly and four in Kolkata Dakshin.
About 1.24 crore voters are expected to exercise their franchise to elect their representative from 349 candidates, including 43 women, at 14, 642 polling booths, including 1075 model booths and 390 ladies booths.
xAs many as 680 companies of central forces have been deployed in all the three poll-bound districts for smooth polling.
Strict Nakabandi checks are on in the poll bound districts. As many as 22,000 personnel of the Bengal Police have also been put on election duty.
The Central Security Forces have taken special measures to dominate the 5,298 sensitive pockets by launching day-night vigil and nak-checks.
Among others, Trinamool Congress chairperson and Chief Minister Mamata Banerjee, Bharatiya Janata Party's Chandra Kumar Bose and the Left-supported Congress candidate Deepa Das Munshi are in the fray from Bhawanipur constituency in Kolkata Dakshin.
(ANI)