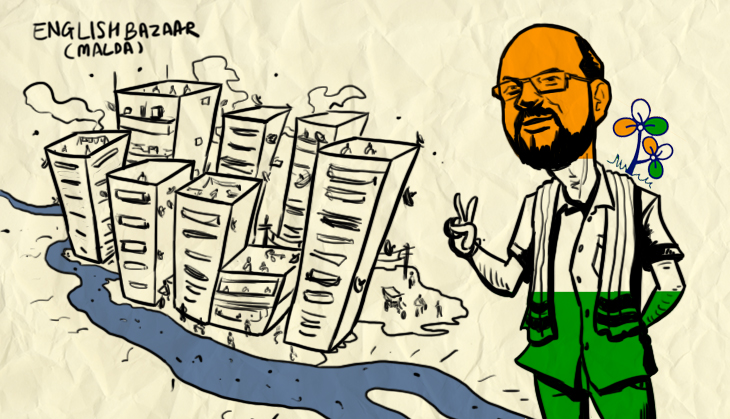 The constituency
Englishbazar is one of two seats out of 12 in Malda district that are currently held by the Trinamool
Congress
It is the only constituency in the district where the TMC is expected to be in the running
The candidates
The battle is between TMC\'s Krishnendu Narayan Chowdhury and Left-backed independent Nihar Ranjan GhoshThe two share a long history, with Nihar having been Krishnendu\'s business associate
More in the story
Catch goes into the TMC and CPI(M) trenches to get a sense of the ground realityWhy TMC is trying to project Krishnendu as the new-age ABA Ghani Khan Choudhury
For a lot of people, a Trinamool Congress victory in the ongoing West Bengal Assembly elections seems a foregone conclusion.
However, there is one pocket of the state which remains Mamata Banerjee's Achilles heel - Malda district, the land of mangoes, opium, fake currency and the late ABA Ghani Khan Choudhury aka Barkat Da.
No matter whom you talk to - journalist, government employee, tea stall owner or rickshaw-puller - the answer will be the same: the TMC will not win a single seat of the 12 in the district.
The ruling party does have two MLAs from the district at present - Sabitri Mitra from Manichak and Krishnendu Narayan Chowdhury from Englishbazar. Both were Congress leaders who defected to the TMC, and were rewarded with ministerial berths in the Mamata government. However, the constant fights between the two did not benefit the TMC organisationally.
In her last public meeting in Malda, Mamata pleaded with the audience to give her a chance and vote for the TMC this time. The meeting she had held before this hadn't even seen a sizeable crowd, according to the local media.
But all her pleas are likely to fall on deaf ears. In fact, the only seat in the district where a close contest can be expected is Englishbazar.
The ambitious incumbent
The reason for this supposedly close contest is Krishnendu, a lawyer by profession, the sitting MLA and the chairman of the Englishbazar Municipal Corporation. He had defected to the TMC in the early 2000s, but returned to the Congress around the time of Barkat Da's death in 2006.
Locals feel Krishnendu realised that the TMC's electoral future in Malda was bleak, and with Ghani Khan gone, there was a void to be filled in the Congress.
Eventually, he triumphed in the 2011 election on a Congress ticket. But in 2013, he switched back to the TMC and won the seat again in a by-election. His ambition was high and he wanted to be a minister, and Mamata obliged by making him the tourism minister and then the food processing minister.
The perennial challenger
The man standing between Krishnendu and re-election is Nihar Ranjan Ghosh, a 'social worker' who is contesting as an independent candidate. Professionally, Nihar is a contractor.
Nihar was once Krishnendu's business aide (some say partner), but left his side due to alleged 'financial reasons'. He aligned with the CPI(M) in the mid-2000s, even though the CPI(M) denies that he formally joined the party. He had defeated Krishnendu once, in the 2005 municipal elections, as a Left-backed independent.
Not giving Nihar the CPI(M) symbol is strategic - it could help him woo traditional Congress voters in the area, according to local journalist Subhro Moitra.
Nihar is famous as the man who always challenges Krishnendu. This time, his only fear is electoral rigging - locals told Catch that in the previous municipal election, the TMC won a few seats with narrow margins, because of greater muscle power.
Inside the TMC camp
Krishnendu's personal office is swanky place, with one air-conditioner, one air-cooler, glass paintings, and a huge sofa set. His pictures adorn the walls: in one, he is seen playing tennis; in another, he is seen at an iftaar party.
The workers at the office told this reporter that just about 10 minutes before I arrived, Krishnendu was here to rest with Bollywood actors Shakti Kapoor and Mahima Chaudhury.
The TMC camp is confident of a win. Krishnendu's election agent and, allegedly, his 'vote manager' Debapriya Saha says: "The CPI(M) and the Congress are hoping that their votes will add up. But let me tell you, many of their supporters are contacting us, as they are frustrated with this alliance. Barkat Da never wanted such an alliance."
Saha brushes off allegations of polling-day violence in the last municipal elections.
"We had lost four wards last time - by a margin of one vote, two votes, 22 votes, and 54 votes. If we had used force, why did we leave out these four wards? You have to admit that Krishnendu won elections on both Congress and TMC tickets. It's all about his personal charisma and good work," Saha adds.
Rajib Dutta, block secretary of the TMC, also tells Catch how much Krishnendu has done for Englishbazar.
"There was only one electric chulli in the crematorium, which happened during Barkat Da's time. The second one was started by Krishnendu Da with his MLA funds. After Barkat Da, it is Krishnendu Da who has built parks, roads etc. He has also built a food park, where scientists are guiding farmers to produce 10 kg papayas and guavas that taste like apples," he says.
It's clear that the TMC wants to create a Ghani Khan-like aura around Krishnendu. The late Congress leader was famous as a man who celebrated Eid and Durga Puja with equal fervour; similarly, pro-Krishnendu posters call him a man of the Quran as well as the Puranas.
Saha and Dutta swiftly excuse themselves after giving us a sneak peek at polling day: "We will win. There are 251 polling booths in the constituency, and the alliance will not be able to arrange agents at many of these booths."
Allegations galore
All the people that Catch interacted with at Krishnendu's office told us they had their 'own businesses'.
They were candid enough to admit they are 'thekedaars of government contracts'. However, all the development that these people claimed to have been a part of should be taken with a pinch of salt.
There are plenty of allegations against Krishnendu - that he runs a syndicate, that Malda town has become an 'congested apartment town' with no space for even the fire brigade to enter, that it has no waste disposal (the river Mahananda is like a sewage drain now, spreading pollution and causing diseases), that he has increased water and building tax manifold (going against Mamata's policies), and that Malda town is not expanding.
And it's not just the Opposition that lays these charges, the general public too corroborates them.
Additionally, battery autos (called 'toto') have become a nuisance in the town, causing traffic jams all along National Highway 34 that passes through Englishbazar. Most of them have no legal papers, but run freely with Krishnendu's support. Evidently, 'toto' unions are a huge support base for him.
"Though everyone expects Krishnendu will lose in a close fight, don't be surprised if there is a tsunami against him," says Moitra.
CPI(M) camp upbeat
In the TMC camp, there seems to be a little bit of overconfidence. They, too, know it will be a close fight, but hope to cruise through nonetheless.
The CPI(M) offices are a study in contrast. There are frantic phone calls, and each new one brings news of threats. The all-pervading concern is 'kothay ke vote korachhe' (who is getting the voting done where) and 'vote thik kore korate hobe' (we'll have to ensure the voting is done properly).
However, there is optimism too, represented by the claims of "100% harabe" (Nihar will definitely defeat Krishnendu). And it's not just the Left cadres - no one except the TMC seems to be willing to say out loud that Krishnendu can win.
Can the ruling party succeed in creating the new-age Barkat Da? Only time will tell.
Edited by Shreyas Sharma
More in Catch:
A killing a month: how state, Naxal violence has brutalised Chintagufa
There's too much "Jai" and too little "Bhim" in this rediscovery of Ambedkar
Odd-Even 2.0: Here's all you need to know