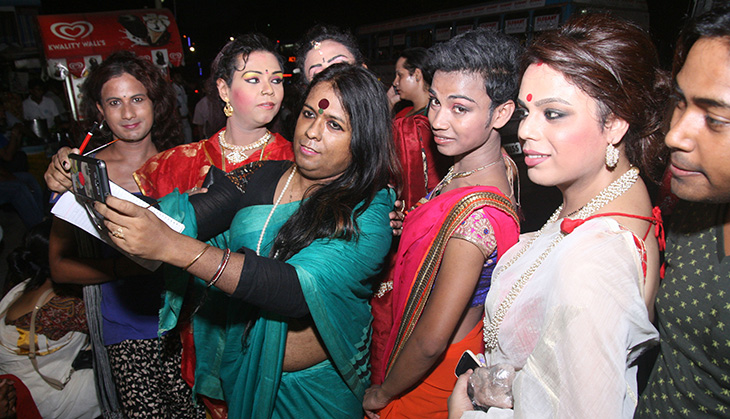 The identity
For the transgender community in Bengal, this is a watershed election
It\'s the first time the people of the community are being identified as the \'third gender\' on their voter ID cards
The candidature
The Lok Janshakti Party had announced it would field two transgender candidates
However, neither candidate ended up filing their nomination papers in time
More in the story
The reasons behind the failed nominations - TMC arm-twisting on internal failure?
The state of the transgender community in Bengal, especially within the democratic process
What are the community\'s hopes and dreams for the future?
It's a watershed election for the transgender community. For the first time, transgender people are walking to polling booths with 'third gender' written boldly on their voter ID cards. After being greeted with curious glances and whispers for eons, they can finally proudly walk with their heads held high.
Read- No change: Real Estate syndicates continue to influence Bengal polls
They have always hoped for a life without discrimination, hatred and negligence. All they demand is their rights, and a life of dignity and respect for every member of the community.
But the question is, will anything change for the community in terms of politics? It certainly could have.
The candidature that wasn't
It came as a pleasant surprise when Ram Vilas Paswan's Lok Janshakti Party (LJP) announced the names of transgender candidates Bobby Halder and Shankari Mandal as candidates on two important seats - Bhabanipur (CM Mamata Banerjee's constituency) and Jadavpur respectively.
The LJP may be a bit-part player in Bengal, but the very fact that an established political party was ready to field them was an improvement on the apathy the community is used to.
The party's state chief, Mira Chakraborty, said: "Paswanji and we as a party want to work for the marginalised. And who is more marginalised than the transgender community? So, it came as a natural choice for us."
Bobby herself told Catch that while she had no false hopes about the result, she was keen to contest against Mamata so that she could catch the CM and her government's eye on behalf of the community.
Many members of the community were skeptical about anything changing so quickly, simply because the stigma of being a Hijra is so deep-rooted in the social psyche. But some were hopeful of small beginnings - economic independence, social security and, above all, respect.
But nothing came of it. The two candidates couldn't even file their nominations by the designated date, and there seems no clear reason for it.
The two sides of the story
LJP's Chakraborty calls it a conspiracy of the ruling TMC, who "threatened our candidates so much that they couldn't go out and file their nominations. Bobby's proposers weren't able to reach the spot. TMC was harassing us since we announced the candidates".
Also read: After killing of CPI(M) workers, anti-TMC voters fear for well-being
However, the LJP didn't immediately complain about this to the Election Commission, since it was reportedly discussing the issue with its high command.
However, the candidates themselves deny any TMC involvement; instead, they blame the LJP itself for the failure.
Shankari says: "I'm no longer with the party. I do not like its stance. From the very beginning, the LJP was trying to pit me against the TMC, which I don't want to do at all. I am in for any movement, but politics is not for me."
On asking whether she thinks the state government is doing anything good for the transgender community, Shankari says: "Of course, yes. It has formed the Transgender Development Board. We have not seen so much work in the last 34 years. We should give the Chief Minister more time."
What if she gets an offer to join TMC? "Then I'm ready to work in politics."
Bobby is more straightforward: "It's the party's (LJP) fault. It is disorganised. It doesn't know the proper procedure to file nominations. There were problems regarding my proposers. The TMC is not involved in this in any way. The LJP wanted to do everything in a very short time, so it failed."
Asked what she'll do if there's an offer to join the TMC, Bobby can't hide excitement. "It'll be a dream come true. I'll grab the offer and join Didi."
What about her involvement with the LJP? Bobby turns serious and answers: "I've to rethink my decision."
Activists disappointed
Ranjita Sinha of the Association of Transgender/Hijra in Bengal points out that in the past, no government in Bengal has spared a thought for the community, which is why the LJP's move was welcome.
"By forming the Transgender Development Board, the state government probably tried to show compassion, but actually it doesn't have any intentions to empower the community. At least through these candidates, there was a chance of increasing visibility," she says.
Read more- West Bengal Elections: Despite violence voter turnout reaches 79.22% till 5 PM
But she also had her suspicions about the LJP's intentions - that this was nothing but a ploy to draw some attention as the party has no visibility in Bengal.
She believes potential candidates like Bobby and Shankari also needed to be counselled. "How will you fight for the community if you are scared? The society and the state machinery will take advantage of your fear," she says.
Anindya Hajra of Pratyay Gender Trust was also initially very positive about the LJP's step, as he believes it's important to be a part of representational politics and the electoral process.
But now, he is disturbed. While he praises Bobby and Shankari's courage in trying to take part in the electoral process, he points out that for the community to enter the mainstream will not be a smooth process at all.
"In the electoral process, a candidate needs enough support to stand against strong opposition. Did Shankari and Bobby have that from the beginning?" he asks.
Hopes and aspirations
The experts agree that the Transgender Development Board is a farce. Anindya points to how Manobi Bandopadhyay, the vice-chairperson and the first transgender college principal in Bengal, herself made derogatory comments.
Sumi Das, from Cooch Behar district, says: "The modus operandi of the board is Kolkata-centric, undemocratic and unclear. The voices from the suburbs, districts and villages have never been heard. We have never got any responses to our queries. I'm not losing hope, but will the new government, no matter who forms it, look into the issues of the transgender community and make this board work?"
During a span of more than one year, only two meetings were held. Job opportunities for trans-persons in civic police, hospitals, educational institutions and other government departments remain only on paper, much to the chagrin of the community.
Mandira Mondal of South 24 Parganas desires to live in the society just as any other person. She says: "On my voter identity card, I want the term 'Kinnar' or 'Brihanalla' to be written, which will make my identity more specific. I want a society which is corruption-free, where there is work for everyone and the projects which are announced during elections should materialise in reality."
Juli Saha of Kolkata says: "I'll cast my vote as a citizen of this state, so I hope to enjoy civic rights too. People look down upon us, and I don't want that anymore. My demands are jobs, reservations and a violence-free society, because we as a community often face indescribable violence."
Discrimination on polling day?
There's still a long way to go for people of the third gender to get what they deserve. The voter ID cards that are such a matter of pride aren't completely free from confusion, with many still carrying 'F' in the gender column. Some are scared to disclose their gender fearing social backlash, while the problem of trans-men is completely ignored.
Read: Bengal hasn't done badly under Mamata, but it isn't nearly enough
On polling day, they still could face harassment. And Ranjita feels the only way around that is a workshop to sensitise polling officers.
Anindya, meanwhile, feels that there is no need for this. ""We don't want anything extra, we want to be treated normally. Casting one's vote should also be a normal affair," he says.
"We don't want a different queue. I think it should be left to the person. Just as he/she can choose whom to vote for, the person must have the liberty to choose where to stand."
Edited by Shreyas Sharma
More in Catch:
Target Sonia: AgustaWestland helps BJP gun for Cong in Parliament
Foreign Secretary Talks: Pakistan is merely keeping up a pretence of dialogue
JNU back on the boil: students plan fresh protests against punishments
UP Muslim converts to Hinduism for gun licence. Will he get it?