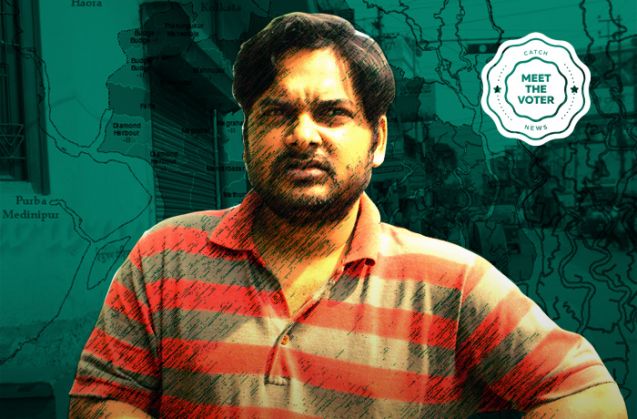 Elections are not just about politicians. They are about people and issues. And what really drives their vote.
Catch is, therefore, starting a 'Meet the Voter' series to capture what different impact groups in the poll-bound states are feeling. This is true insight into the upcoming assembly elections: up-close and hyper-personal.
Baruipur in South 24 Parganas district of West Bengal is a Trinamool Congress stronghold, the constituency of the Assembly Speaker Biman Banerjee. Since the parliamentary election in 2014, the BJP has been trying to find a foothold here, but in vain. That's largely because of Banerjee, who enjoys a reputation as a clean leader who works for the development of his constituency.
Baruipur is home to both Hindus and Muslims, and some Christians as well. It has a rich cultural history and thanks to its strategic location on the way to Kolkata, enjoys a unique status in South 24 Parganas. Here, we spoke with Ziaul Haq, an aspiring schoolteacher who is preparing for School Service Commission Examination.
Do you know who is the CPI(M) candidate in your constituency?
Hmm, I guess Sujan. No, no. No, I don't know.
Are there any changes you have seen here since the last assembly election?
There are many 'Triphala' streetlights in my constituency now. Apart from that not much. As in the rest of West Bengal, young people are not getting any jobs. New skyscrapers are coming up though which indicates that the promoters are having it good.
What is your reading of this election?
There is a wave in favour of the Trinamool. Biman Banerjee enjoys wide support here. But I don't think that is because of the development work he has supposedly done; I haven't seen any. They had promised to "change the map" of Baruipur during the last election, but believe me, no work worth mentioning has been done.
But many people in this constituency are saying a lot of work has been done. Roads and flyover had been built, street lights installed.
My point is why do you have to do these works just before the election? It proves these are not developmental works but bribes to the voters.
What about the state hospital that has come up or the new primary schools? Several companies are setting up shop here, and people are getting jobs.
Don't even ask me what the condition of the hospital here is. Mid-day meals have ensured children are going to school but that's not enough to encourage education. As for the big companies, it's all about capturing the huge market in South 24 Parganas. In any case, the ruling party or their candidate don't have any contribution in this.
What do you make of the CPI(M) or the Left-Congress alliance?
People don't have much faith either in the CPI(M) or this alliance. See, even I don't know the name of the party's candidate. They do not have the support or the machinery to promote their candidate. They have announced the name much late. They are going about this alliance in such a manner that even if it fails they won't have to take any responsibility. They were in power for a long time and failed. People don't want them to be back.
What about the BJP?
Here, the BJP exists only on paper. They have added Tollywood glamour, that's all. They have nothing to boast of. The people are well aware of the BJP's doings and they know about their reactionary counterparts. So, they don't want to support the party.
What do you think of the Trinamool government's minority policy?
It's good that they talk about secularism and want to practise it. But if you really think about it, you will find these "minority policies" are just tricks to secure their vote bank. Unfortunately, a large number of the state's Muslims are not even aware of their own needs. But there are signs that they would understand soon enough. Then the game will change.
How are your friends reacting to this election?
I find that most of them seek the shelter of one party for security and materialistic gain, and it's pretty quite clear that's the ruling party. Most of them don't have any desire to support the opposition parties as they are not convincing enough.
Do you feel the people here still have faith in the ruling party?
Actually, the people are so irritated with the Left that they are ready to bear with the ruling party. The worst thing about this government is that there is not much intellect; it is marked by a certain brainlessness.
So what other option do the people have? And if I may ask you who are you going to vote for?
Let me reply to the second question first. I will probably vote NOTA.
The thing is that people are looking for options or alternatives, but there is none. We would have been happy if there was a party like AAP here. So, the situation here is that since there's no one else, let the ruling party come back. It's at least better than the non-existent opposition parties.
Edited by Mehraj D. Lone