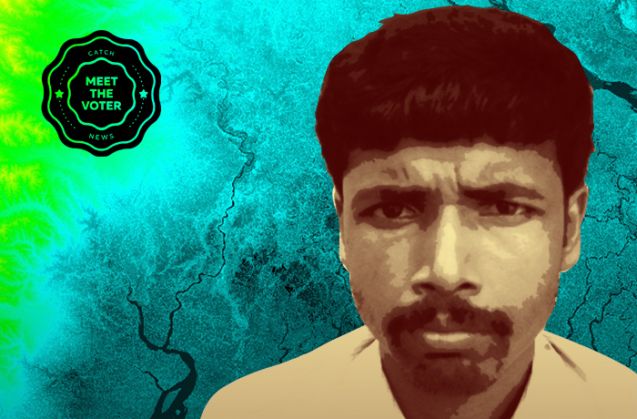 The constituency
Uttar Dumdum constituency falls under the North 24 Parganas district of West Bengali-speaking
It features TMC\'s sitting MLA and Bengal law minister Chandrima Bhattacharya taking on CPI(M)\'s Tanmay Bhattacharya
The voter
Mintu Mitra runs a small business selling utility goods in New Barrackpore
He says some development has happened in the constituency, but more is needed
More in the story
Mitra reveals how the voters\' political loyalties have changed over the years
The big issues in the constituency that he wants to see addressed
Elections are not just about politicians. They are about people and issues. And what really drives their vote.
Catch is, therefore, starting a 'Meet the Voter' series to capture what different impact groups in the poll-bound states are feeling. This is true insight into the upcoming assembly elections: up-close and hyper-personal.
Uttar Dumdum constituency in the North 24 Parganas district of West Bengal was once a bastion of the Left Front. But, over the last few years, it has turned towards the Trinamool Congress and its promise of 'Paribartan'.
Also read - No party like AAP in West Bengal, so Ziaul Haq is voting NOTA
The constituency is made up of two municipalities: North Dumdum and New Barrackpore. In the last Assembly polls, TMC's Chandrima Bhattacharya defeated Rekha Goswami of the CPI(M), and subsequently became the Minister of Law, Judicial affairs & Health. She is known to be close to Chief Minister Mamata Banerjee and has got large support base in the constituency.
This time, senior CPI(M) leader Tanmay Bhattacharya is the candidate for the opposition, and is going all out to regain lost ground.
Trinamool supporters say the constituency is undergoing development, even though the congested roads, bad traffic and lack of cleanliness are proof of something entirely different. However, in an area where small-scale businesses are the main source of livelihood, the ruling party has managed to gain the faith of the masses.
The battle for Uttar Dumdum is between TMC's Chandrima Bhattacharya and CPM's Tanmay Bhattacharya
Catch spoke to Mintu Mitra, who runs a shop selling different utility items at a railway platform. Mitra has been a resident of the constituency for decades and has seen it evolve. Here's what he had to say about the upcoming elections.
What is your wishlist for whoever wins this election?
Nothing but development. We are middle-class people, what else we can want from the candidate? Whoever will come to power will have to look after our needs.
Are you happy with the work that has happened so far in your constituency?
Yes, we are happy with whatever has happened. See, I have crossed the age to get a job. So, I don't expect to have a new job, a new career. But the cleanliness, the water supply system has developed a lot.
I'm not saying that everything has been done, but we are satisfied that at least we have seen some good work. It's not like the past.
Also read - Sentiments should not decide our votes, says Kharagpur's Ram Laxmi
What are the other areas where you want developed?
Our area has a big water-logging problem. Then there is the matter of streetlights... there are a lot of areas that still need work.
What about women's security in your area? Barasat is pretty close... (Barasat is an area where there have been frequent instances of crimes against women)
That's certainly a concern. But you cannot expect everybody to be tread the right path. There will always be people who will commit these crimes, so you cannot judge the whole area on the basis of these few people. Our particular area hasn't seen such incidents, so women's security is not much of a concern.
Small businessman Mintu Mitra: "We were once Left supporters. Then we voted for TMC and change"
So, who do you think is going to win the election?
I don't want to comment on that (laughs). We are neutral voters, we'll vote for whoever will work hard for us.
Do you not support a particular party?
Yes, we do. But we can change parties as well. After all, who brought the TMC to power? We did. We were once supporters of the Left; then, we wanted change and switched to the TMC. Now, if we feel they are not working, we will again vote for change and support some other party or candidate.
I personally feel everyone should cast his or her vote, no matter what level the election is for - Lok Sabha, Assembly or municipal.
More in Catch - Left supporter Ranjana finds Mamata & TMC "not civilised" enough
Mamata will win, but with a thinner margin: Partha Pratim Biswas
WATCH: TMC has crossed boundaries of shamelessness, says Kolkata's Mangal Roy