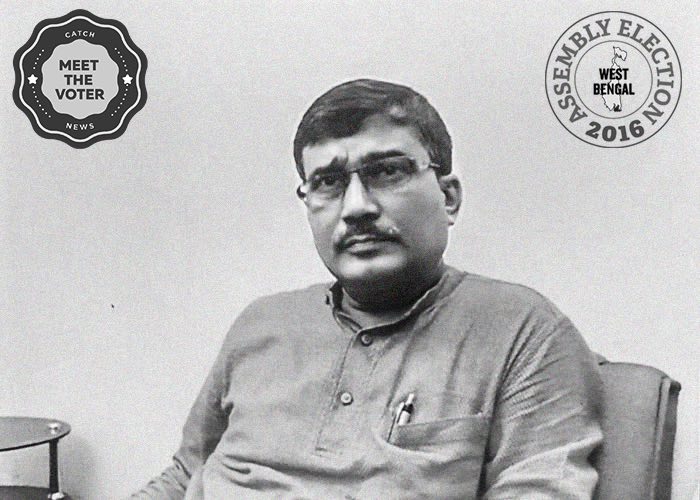 Elections are not just about politicians. They are about people and issues. And what really drives their vote.
Catch has, therefore, started a series - 'Meet the Voter' - to capture what different impact groups in the poll-bound states are feeling. This is true insight into the upcoming assembly elections: up-close and hyper-personal.
***
Partha Pratim Biswas - a professor at Kolkata's famed Jadavpur University (JU) - is a little different from your run-of-the mill voter: He himself has been a vote seeker in the past. In 2011, he was the Left Front candidate from the city's Tollygunge constituency.
Read- West Bengal polls: Kharagpur loved Modi, but will it vote for BJP?
Known as one of the many sensible voices of reason at JU, Biswas has been teaching there for over 23 years after being a student there for seven years.
And when he isn't teaching construction engineering, he is a commentator on political and current affairs.
West Bengal 2016
Biswas doesn't expect any miracles this time 'round: He believes Mamata Banerjee's reign will last for another term.
But he isn't particularly happy about it: "Mamata is an intelligent politician. She knows how to put the right people at the right place. We think she is demonstrating a lot of confidence by contesting this election without an alliance, but there is an informal alliance with the BJP."
According to Biswas, both parties have a mutual understanding and aren't attacking each other the way they have in the past. It is an alliance that Mamata would not want to admit to - as it may result in her Trinamool Congress losing its Muslim votes.
Also read- Battleground Assam: all you need to know about the crucial Assembly polls
But she won't get a majority as big as the last time, Biswas thinks, as votes will be divided: "The Congress-CPM alliance, for instance, might eat into her Muslim vote bank."
Biswas feels the CPM-Congress alliance will hurt Mamata in several parts, especially in the north but she will still sail through.
Demography democracy
Youth, the professor feels, is the most important component this election. "The demography of the Indian voters has changed substantially over the last few years. The 18-35 age group constitutes a significant size of the whole voter group now. It will be a determining factor in the upcoming Assembly elections in Bengal.
"The youth in Bengal are well aware of political affiliations and scenarios. They are learned and can make informed choices. And it is because of this that the state and central governments are trying to assert control in universities all over Bengal (and the rest of the country) to implement their political agenda.
"This is a dangerous trend. I think the youth of Bengal are in a position to understand the kind of 'acche din' they will have to encounter and under whose rule."
Edited by Joyjeet Das
More in Catch:
All you need to know about the West Bengal elections
The Observer's piece on Pachauri is just one side of the story
#INDvsAUS | It's the Virat show! Kohli puts India in semi-final
What has got Donald Trump all worked up? His wife's nude photo