Somi Das
| Updated on: 14 February 2017, 6:03 IST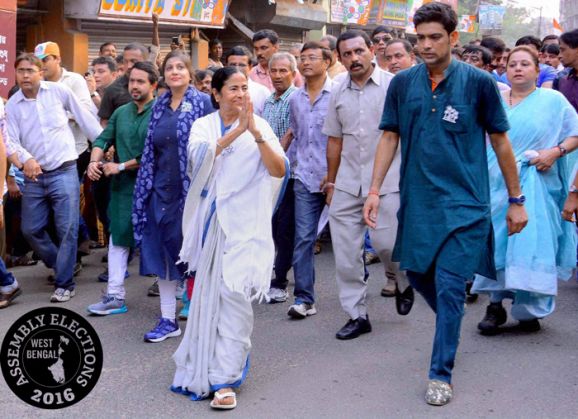 There is something about the speed with which West Bengal Chief Minister Mamata Banerjee walks that leaves people in awe. On 25 March, she wrapped up her campaigning for the first phase of elections in the state with a road-show in Medinipur town, district Paschim Medinipur, with a five and a half kilometer roadshow. While her cavalcade moved in vehicles, she led her supporters on foot, walking the entire stretch without any break.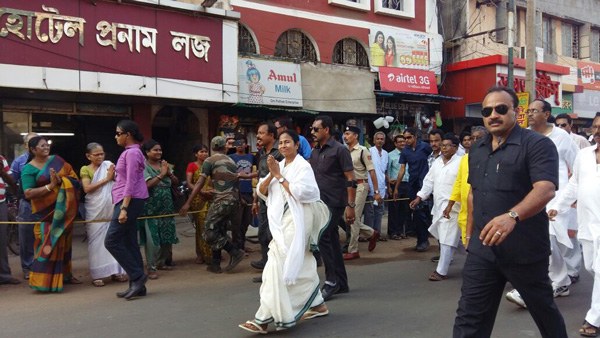 Strangely, the local MLA Magendranath Maity, for whom Didi was canvassing, was nowhere to be seen, except for party posters. Ratin Das, a local, says keeping pace with Didi, known for walking in her humble hawai chappals, requires one to be fit. There is no way the 70-year old MLA could match up to her speed, he said.
Predictably, we failed to keep up with Mamata in the five and a half kilometre stretch. And judging by the people we spoke to, her opponents will also be left far behind at least in the first phase of the the elections.
The districts of Paschim Medinipur, Bankura, Purulia and Burdwan will vote on 4 April and 11 April.
Also read: All you need to know about the West Bengal elections
No buzz in the Opposition camp
Apart from the people's sense of familiarity with the CM and a strange fixation with her walking speed, another fact that stands out is complete absence of buzz from the Opposition camp. On the one hand, nobody seems to know anything about the BJP candidate from the seat, Tushar Mukherjee. On the other hand, Congress workers in the area quietly stood watching Mamata and her frenzied supporters walk past, ruing the complete absence of activity in their office. That doesn't stop them from criticising the CM.
Medinipur Youth Congress president Ajitesh Das says: "The turnout was very poor. This is not what you expect when the chief minister of the state comes visiting". When reminded that the Congress central leadership is completely missing from the campaign, he says: "We don't have a Congress candidate from this seat. CPI candidate Santosh Rana is contesting. So there is no question of either Rahul Gandhi or Sonia Gandhi campaigning here."
No sting in Narada
One of the reasons why Mamata had to resort to her personal charisma while campaigning was the political fallout of Narada sting. Some of her ministers and prominent party leaders were caught taking bribe on camera. This included former minister and Saradha accused Madan Mitra , who is contesting elections from behind bars, former Union railway minister Mukul Roy and state panchayat and rural development minster Subrata Mukherjee.
Interestingly, this tactic seems to have worked. Despite BJP's aggressive campaigning, both on the ground an on social media, it is Mamata's version of the sting being a "political conspiracy" that has convinced people.
Listen to how this daily wage labourer swears by the chief minister's clean character.
Dibakar Bardinga
"This is politics and anything is possible in politics. Opposition parties might do anything to change public opinion. I have seen the footage of the sting on news channels but I don't think Didi can do anything of this sort. Didi loves poor people. She cannot do something as corrupt as this," Bardinga says
Some of the schemes that have helped Mamata build a pro-poor image are Kanyashree in which girls get Rs 500 each year as a stipend and Rs 25,000 on reaching the age of 18 and completing classs 10. Another popular scheme is making rice available for poor families at Rs 2 per kg.
Cosmetic schemes, no real development
However, as we move along Didi's cavalcade and speak to more people, it turns out that not all are impressed with these schemes. Some say that these scheme are fraught with inconsistencies. Her failure to create jobs for the youth is another major grouse among voters.
Here's what some of the people said about her schemes.
Sanjeeb Maity
Q. Have the poor benefited from Mamata's schemes llike proving rice at Rs 2 per kg?
A. This scheme of providing rice at Rs 2 per kg isn't new. We used got this in other forms. Earlier, we used to get 35 kg of rice per household at subsidised rates and now we are getting 8 kg rice per person.
However, under Mamata it has become more difficult to avail this. People who genuinely need this scheme face harassment.
Q: Are there jobs for youth?
A: There are no jobs for the youth here. Not only in this town but the entire district is suffering from the problem of unemployment.
Also read: West Bengal elections: Left announces 84 candidates, 11 seats overlap with Congress' choice
Q. Do you have any sisters or women members in your family who have availed the benefits of Kanyashree or received bicycle?
A: No we have got no benefits under Kanyashree but there are many people who have received cycles.
Another person cuts in: Deepak Kumar Das.
But it is not an effective scheme. The target age for the cycle scheme is students of Class 10 and 12. But it is the younger children who need cycles to go to school. Similarly in the Kanyashree scheme, girls are being given a meagre amount of Rs 500 a year. How can that be enough to sustain her education?
Q. But they also get Rs 25,000 when they turn 18?
True. Unmarried girls who continue their education till the age of 18 get Rs. 25,000. This might help reduce early marriage among girls. But for a girl from a poor family, to be able to study till the age of 18, Rs 500 a year is not sufficient. Rs 45 per month is not even enough to buy stationary. In Medinipur, we have not seen any development in the past 5 years.
Mamata ended her roadshow at Hassan Hussain Karbala, which locals say is a 400 year old structure. The area enclosing the Karbala also houses the Mazaar (shrine) of Khaki baba.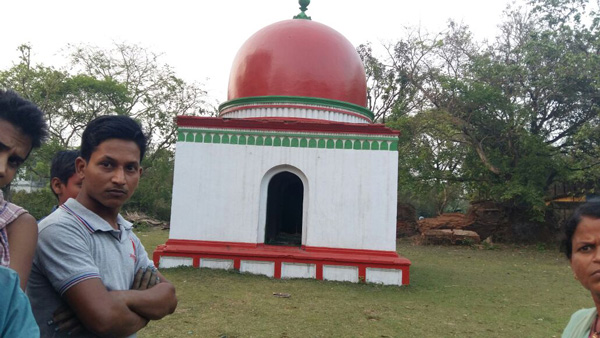 We spoke to the caretaker of the Mazaar, 70-year-old Rustam Khan. His sons have abandoned him and proceeds from the Mazaar help him survive.
A man with very few needs, his only complaint is that he has to live in a makeshift hut with a tarpaulin roof. Life is difficult for him during rainy season.
He says that all the talk about Mamata being a saviour of Muslims- something the BJP calls appeasement - is a sham.
Q: It is often said that Mamata Banerjee is sympathetic towards the needs of the minority community. Has belonging to the minority community helped you in any way as far as availing government schemes is concerned?
A: No, I have not benefited at all. Everyone knows that. I live in a Kaccha hut. When it rains, I have use tarpaulin to shield myself.
Q: Are there any housing schemes for the homeless?
A: No.
Q: Has the local MLA paid attention to these kinds of problems?
A: No one has ever paid any attention to it.
No winds of change
By the end of the roadshow, we had spoken to enough people to understand that hidden in the awe and admiration for Didi is a sense of dissatisfaction. But there is no desperation for "poriborton"(change) - a sentiment that brought Trinamool Congress to power in 2011. Perhaps the speed with which Banerjee walks gives them hopes regarding the speed of development in West Bengal.
Edited by Aditya Menon
Also read: West Bengal polls: Why Roopa Ganguly may score over Laxmi Ratan Shukla