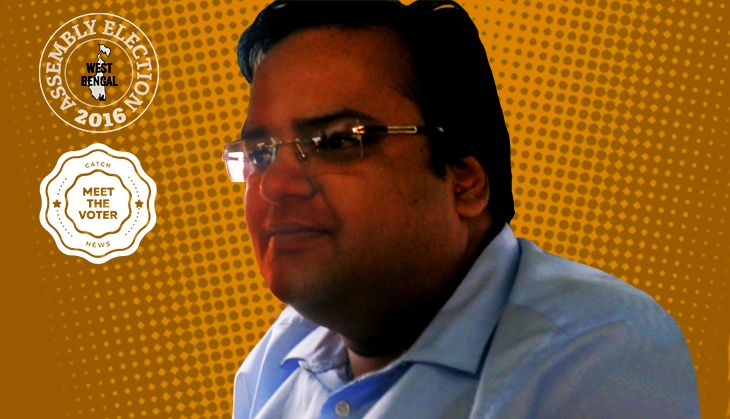 Elections are not just about politicians. They are about people and issues. And what really drives their vote.
Catch is, therefore, carrying a 'Meet the Voter' series to capture what different impact groups in the poll-bound states are feeling. This is a true insight into the upcoming assembly elections: up-close and hyper-personal.
Yogesh Aggarwal is a chartered accountant working in Kolkata. Catch met him on a train ride from Kolkata to Siliguri.
Check out- Retail manager Sujoy: "Bengal not communal, want it to stay that way"
Yogesh is a thorough Narendra Modi supporter and wants to see the BJP gaining a foothold in Bengal. "I would like to see BJP in Bengal but they do not have a solid base here".
"I think I will vote for Mamata Banerjee as she is the best bet for West Bengal." With regards to the charges of corruption against the TMC, Yogesh feels that all parties have had incidents of corruption. "Left was just as corrupt," he says.
According to Yogesh, Bengal has improved significantly under Mamata Banerjee. "There has been development in the state and that has been because of Mamata. People do not support TMC as much as they support Mamata. TMC is nothing without Mamata. There is scope for improvement in the industrial sector and employment which is why I will vote for Mamata. She will do better next time as well."
Over the alleged understanding between BJP and TMC, Yogesh said: "I think TMC is supporting the BJP at a national level. They are lending support to the BJP for bills like GST. But in Bengal the parties are fighting each other."
Edited by Anna Verghese
More in Catch:
An RSS dream takes shape. Gujarat ushers in upper caste quota
Here's every Bollywood female protagonist from 1980-2015. It's depressing
#AgustaWestland: why ED has called ex-IAF chief SP Tyagi for questioning
Land of discontent: eight years after the Tatas left, Singur remains divided