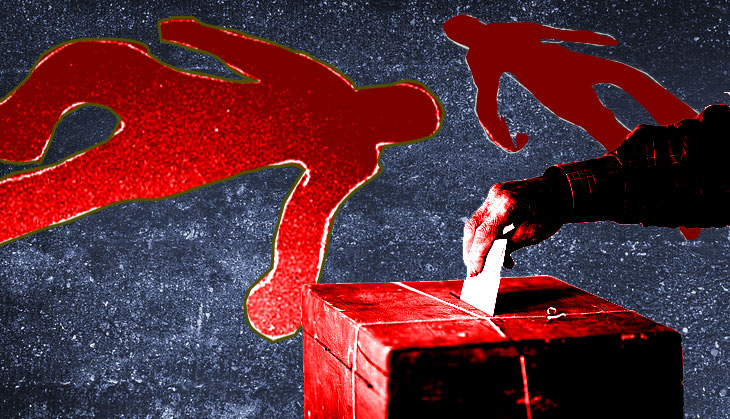 The violence
A CPI(M) election agent was killed in Domkal on election day, followed by the killing of two more party workers in Khandaghosh
Another CPM worker has been killed in Haroa, while three Cong workers were injured in Canning
The pattern
The violence has taken place on seats where the TMC is expected to lose
Voters leaning towards the CPI(M)-Congress alliance are afraid for their lives and livelihoods
More in the story
What\'s on the voters\' minds? Catch travels to three of these spots to find out
The first two phases of the Bengal election were free of bloodshed. But after the third phase, a reign of terror has swept through the state.
One CPI(M) election agent was brutally killed in Domkal, Murshidabad, on election day, followed by the killing of two more CPI(M) workers in Khandaghosh the next day.
In the past few days, another CPI(M) worker has been killed in Haroa, North 24 Parganas, while three Congress workers were critically injured after an assault in Canning, South 24 Parganas.
So, is there anything common to all these places?
Catchhad visited Domkal, Haroa and Canning on the election trail, and found that the more people resist, the higher the chances of violence. And all these seats have a high chance of a TMC defeat.     
Haroa
For outsiders, the fear in people's mind is difficult  to understand. It was palpable when I met a tea stall owner at a highway intersection between Haroa and Minakha, which serves as the local square.
Haroa, which is surrounded by 'disturbed zones' Minakha, Rajarhat and Bhangar, goes to the polls on Monday, 25 April.
"We do not know if we can vote. Last time, I had voted for CPI(M) and as a result, I was homeless for seven months. Unable to return, I was just shuttling between relatives' houses with my pregnant wife," said Mohammed Alauddin, when asked who had an advantage in the region.
"Local TMC people poured poisonous oil on our pond (so that fish die), my tea shop was plundered, and finally I pleaded to local TMC leaders, paid Rs 30,000 for a festival organised by them, and then only I could be back. Still, they said this payment does not ensure my father's safety. He was an active worker of the CPI(M)."
Alauddin was in Mumbai for 12 years, working in the huge embroidery market. He said he would have never come back if he knew about the political situation in the region.
Before I left, he discreetly took down my number on a paper and asked: "If I tell you about violence during polling day, or after that, can you send that message to superior officials?".
Haroa and Minakha both saw close contests in 2011. But during the 2014 elections, the TMC's lead increased.
According to the media, the worst of the violence in 2014 was in Haroa, "where armed ruffians lay in wait for families returning home. Four - including two women - were shot and critically injured. Another five were abducted. At least 20 others were injured, as the families were caught in the open. Some of the victims alleged that the Trinamool MLA from Minakha, Usharani Mandal, was present at the spot."
This time, locals say Haroa is going to see a tight contest, with a slight advantage to the CPI(M).
"Imtiaz Hossain, the local CPI(M) candidate, has strong financial power (he allegedly owns brick kilns), and has got solid 'understanding' with many local TMC workers. Even in 2013, he successfully won the zila panchayat elections in the region.
"Since then, he has been able to persuade many TMC people to dance to his tunes. Moreover, this region was known for violent factional fights between CPI(M) members, where he was mostly at the receiving end. Thus, he knows how to fight," says a former party member of the CPI(M).
Domkal
Domkal, in Murshidabad, had witnessed 23 and 17 deaths respectively in the 2003 and 2008 panchayat elections.
On our way from Berhampore to Domkal, all we saw were trucks and Matadors full of CPI(M) supporters, going for a Surjya Kanta Mishra rally at Jan Kalyan Maidan, Domkal.
At the maidan, TMC and CPI(M) party offices stand side by side. There were songs being played on the speaker how 'oshojjhyo din' (intolerable days) of Mamata Banerjee should be ended.
Hundreds had gathered in the CPI(M) party office, their body language exuding confidence.
"Fifty-five of our workers have been murdered in Domkal's history. This time, our issue is the deteriorating law and order situation, and corruption," Mijanul Islam, zonal committee secretary of the DYFI, the youth front of the CPI(M).
The seat has been a Left bastion since 1977, and sitting MLA Anisur Rehman has been winning since 1991. In 2011, Anisur won the seat by a margin of 3,075 votes against the INC candidate Soumik Hossain, son of former Congress MP Abdul Mannan Hossain.
In September 2014, Mannan and his son defected to the TMC. This time, Soumik is contesting on a TMC ticket Rehman.
Though this is one of the seats where the Congress is contesting alongside the CPI(M), locals say the fight really is between CPI(M) and TMC, and the result depends a lot on the resistance that the CPI(M) can put up against Soumik's manpower and desperation to win.
Throughout Domkal, the mood of the people favours the CPI(M). Mijanul said CPI(M) would surely win this seat.
There were just four people in the TMC office. They agreed that they are on the back foot, as Anisur has a personal appeal, everyone in Domkal knows him, and he is helpful.
On the day of the election, Bengali newspaper Ei Samay quoted the menace that Soumik Hossain is capable of. "Those who used to operate the vote machinery of the Left are now with me - from Saifuddin Chacha, Hamid Biswas, Toton Biswas, Roni Molla to Kamaruzzaman."
The result: one CPI(M) polling agent killed about 100 metres outside the polling station, with two voters injured.
Canning
Five Congress workers were attacked on Thursday in Canning. Of them, three were critically injured.
In Canning, local CPI(M) workers said there was 'an outside chance of winning'. The Congress-CPI(M) candidate is Arnab Roy, who has muscle power. He has also been a pradhan of a gram panchayat, and used to handle the might of the Left earlier.
After the announcement of his candidature, there is renewed vigour among Congress and CPI(M) workers. They proudly proclaim: "We organised a rally of 2,000 people in Golabari, Eitkhola area. Even a few months ago, this was unimaginable. Local TMC leader Khatib Sardar had ensured all opposition party workers were homeless."
People bank on one single point of hope: that Arnab Roy's men will be able to stop the onslaught of the TMC on polling day, and people can vote freely.
With such resistance brewing, can Mamata Banerjee control her cadres?
The worrying aspect - the next few phases are in TMC strongholds, and the party would be aiming for a clean sweep.