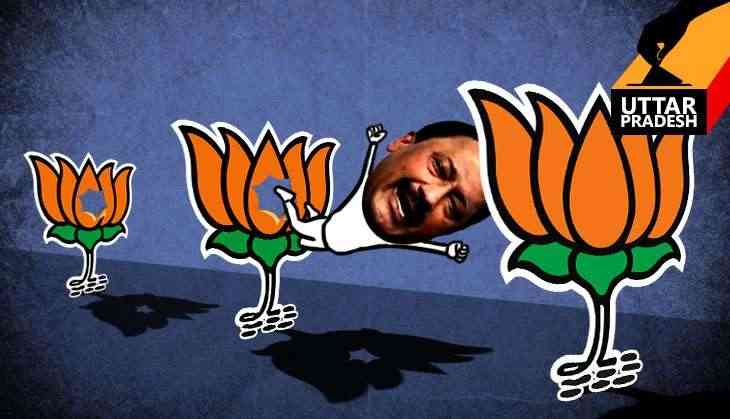 In an Uttar Pradesh constituency where nearly 90,000 voters are Brahmin, 80,000 are Vaishya and only 40,000 are Muslims, you would think that the BJP would be in a dominating position. Also, when the constituency is the holy city of Mathura, where Lord Krishna is believed to have been born.
But it's Congressman Pradeep Mathur who has won the last three assembly elections here. This time, he is up against BJP national secretary Shrikant Sharma.
While Sharma is wooing voters by promising to "uplift" the Mathura area and clean up the Yamuna, Mathur is banking on his "connect with the locals" to win a fourth term.
Also Read: Shiraz, local shop owner in Aligarh: Can't trust any party, thinking of not voting at all
In any case, Mathur starts as the favourite. As Manoj Sharma, the public relations officer of a local hospital, says, "People of all castes and religions have unanimously voted for Pradeep Mathur three times. He has done a lot for our city. He listens to poor people and addresses their problems. You can walk into his house and he will meet with you. He has a personal connect with the people. He will surely win again."
Sharma is relying more on emotional appeal. He has accusesd Mathur as well as the ruling Samajwadi Party of doing little for the cause of "the holy city of Braj".
Addressing a rally recently, Sharma said, "We face the problem of drinking water on one hand and of waterlogging on the other. This is the birthplace of Lord Krishna but there is a lack of basic facilities. Electric supply is erratic; there are transportation problems and crime rate has risen alarmingly."
Sharma also targets the newly formed Congress-SP alliance every chance he gets. "There is one flop prince who stayed at the Centre for 10 years. Another prince benefited because of the anger against the Mayawati government over corruption and crime. But he has continued the same legacy and is now enacting the same story. The tie-up is a sign of weakness; otherwise why would a chief minister with a majority try to retain power on Congress's crutches?" The prince references, of course, are to Congress leader Rahul Gandhi and outgoing chief minister Akhilesh Yadav.
It's not that the BJP doesn't enjoy support in Mathura. It has a fairly wide appeal, especially among the trading class. Nawal Kishore Aggarwal runs a shop in the premises of the historic Shri Krishna Janmasthan Temple. He says, "We are voting for the face of development and that is Narendra Modi. He is doing so much for the country. He will do a lot for Uttar Pradesh as well."
He adds, "Crime and lawlessness have increased significantly here under Samajwadi Party; women are unsafe, we hear stories of rape, molestation, robberies everyday. The BJP will bring chance and change is always good."
Also Read: Done with BJP, Jats fight for their identity and 'their' party - the RLD
Mathur isn't deterred by such pledges of support for his opponent. "I have always been accessible to the people and have worked for development here," he says, explaining why he is confident of victory.
Also, Mathur says, Modi's demonetisation inflicted a lot of suffering on the people and they are angry with the BJP.
If that didn't make it challenging enough for Sharma, he has to contend with disgruntled leaders in his own party who were eyeing the ticket that went to him.
The BSP has put up Yogesh Dwivedi, who unsuccessfully contested the 2014 Lok Sabha election against BJP's Hema Malini, while Ashok Aggarwal, who fought the last assembly election on the SP's ticket, is the RLD nominee from Mathura.
In UP, where votes are often cast on the basis of caste and religion, it will be interesting to see whether Mathur manages to keep his rainbow support base or whether the upper caste Hindu voters will sway the contest in favour of the BJP.
Also Read: Ground report Agra: BJP holds the edge, but women may turn the tide for SP