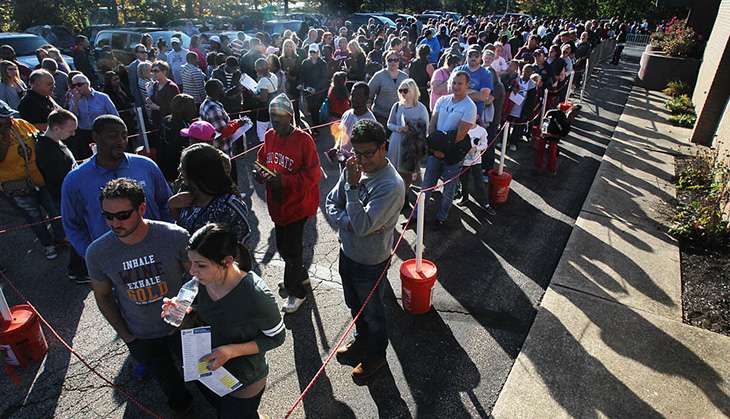 America will go to polls on Tuesday, 8 November 2016, to elect its 45th President.
We already know that the electoral processes in the world's oldest democracy are vastly different from how leaders are elected in India - the world's largest democracy.
But why do Americans vote on a Tuesday?
In 1792, the federal law allowed each state to choose their elector by conducting a presidential election any time during the 34-day period before the first Wednesday of December. As it turns out, this did not work out too well considering that the runner-up in the presidential election automatically became the vice-president in 1805. For real!
It was in 1845 that the Americans decided that it probably made sense to conduct elections on a single day.
But since America was still largely an agrarian society back then, this meant that farmers would have to travel on horses and carts to cast their votes.
So, while deciding on a day to vote, they realised that Friday, Saturday and Sunday were days of worship. Wednesday was ruled out as it was supposed to be the market day.
This left Tuesday - the only day that did not interfere with the Sabbath or the market. This also meant that people could travel on Monday, cast their votes on Tuesday, and get back home in time for market day, Wednesday.
Also Read:US election 2016: America goes to polls! Who do you think will succeed Obama?
How do the US elections work?
During the general election, Americans head to the polls to cast their vote for President. But the tally of those votes - the popular vote - does not determine the winner.
Unlike in other US elections, the President and Vice President are not elected directly by the people. Instead, they are chosen by "electors" through a process called the Electoral College.
To win the election, a candidate must receive a majority of electoral votes. In the event no candidate receives the majority, the House of Representatives chooses the President and the Senate chooses the Vice President.
In total, there are 538 electoral votes spread across the states, and a candidate needs a majority of 270 of them to win.
After months of severe campaigning and dozens of controversies surrounding the two presidential nominees, American citizens will finally vote on 8 November 2016.
Read More: Your last minute guide to the US Presidential election 2016