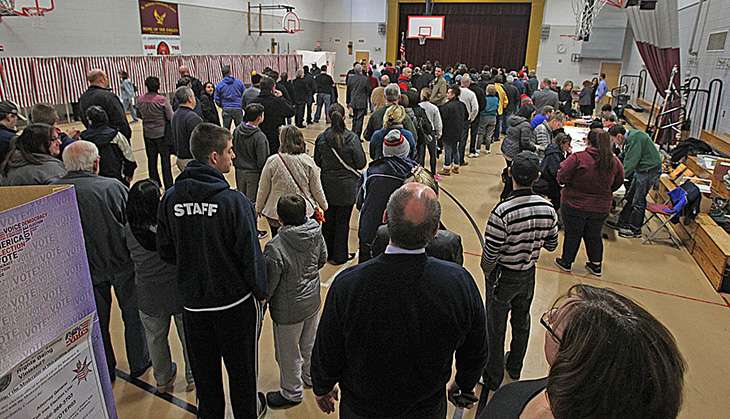 Voters turned out in large numbers on 8 November in Florida, North Carolina and Georgia at polling stations to elect either the country's first woman president in its 240-year history or a political outsider in the White House as the race between Hillary Clinton and her rival Donald Trump remains too close to call.
Florida is a crucial state for both the presidential candidates and saw a rise in voter turn out by 89% from the 2008 US elections. While North Carolina saw a 79% rise from 2012 elections Georgia witnessed 144% rise from the last elections, CNN reported.
Clinton registered her first 'win' in the 2016 elections by four votes to two against Trump soon after midnight in the remote Dixville Notch, New Hampshire.
While Clinton is close to victory mark, Trump must win most of the battleground states to clinch the magic figure of 270 Electoral College votes.
An estimated 200 million people are eligible to cast their votes to elect the country's 45th president along with hundreds of Congressmen and members of state legislatures and local civic bodies.
A record 42 million have already voted using the "early voting" provision of the American electoral system, surpassing the 2012 record when 32.3 million people had voted in advance.
Fighting for every single vote at stake, Democratic nominee Clinton and her Republican rival Trump made their last minute forceful argument before the American people with their own vision for the world's largest economy, ending the ugliest presidential campaign in US history.
--With PTI inputs