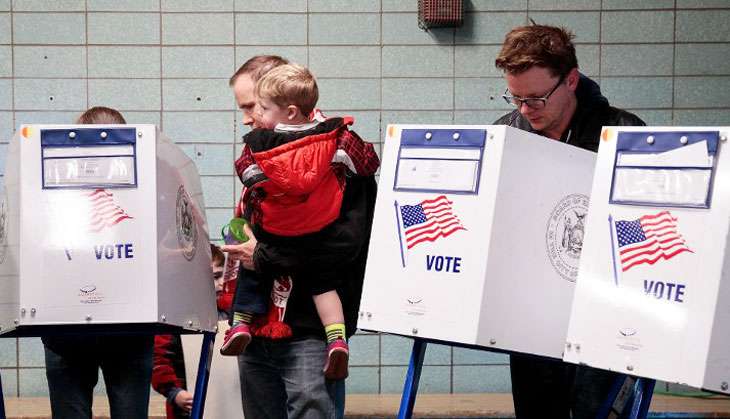 The polls have opened and election day - Tuesday, 8 November - is here. After a fiercely fought campaign in the United States, it all comes down to this. Will it be Democratic presidential candidate Hillary Clinton or Republican presidential candidate Donald Trump? We will know in less than 12 hours.
Before we get into the key states that should be monitored, here\'s a look at what the last minute polls/predictions are saying:
FiveThirtyEight, Nate Silver\'s website, has Clinton with a 70.9% chance of winning against Trump\'s 29.1%.

The New York Times take a votes-wise approach, has Clinton leading Trump 46%-42.9%.

Real Clear Politics, an aggregator of all polls puts Clinton ahead by 2.2%.

BBC\'s poll of polls has Clinton ahead of Trump 48%-44%.

Reuters/Ipsos state of the nation study gives Clinton a 90% chance of victory.
Here\'s a quick rundown of which states to follow - in alphabetical order - and why:
01
Arizona (11 electoral college votes)
Arizona has long been a Republican stronghold. Hence Trump will be looking to secure the 11 electoral votes. The one voting group that can help Clinton snatch the state from Trump are the large number of Hispanics in the state. In the run-up to voting day, both Clinton and running mate Tim Kaine have been campaigning there and this suggests that the Democrats believe the state is within their grasp.
This surge in Latino voting has the Republicans shaking with fear. The latest polls have shown that the Democratic nominee is within striking distance. There are 709,000 Latinos out of Arizona's 3.5 million population. Early voting in Arizona has seen a bigger surge in Latino voting that anywhere else in the United States.
NOTE: The Democrats have taken the state just once since 1952. That was back in 1996.
02
Colorado (9 electoral college votes)
Colorado is another state where the Democrats are relying heavily on a strong turnout from the Latino community. Colorado has been termed a 'swing state' only in the last few elections but recently it has been shifting to the left.
This time, the Democratic and unaffiliated voters outnumber the Republicans. One recent poll has Clinton leading by just 5 points. The RealClearPolitics average is just 3 points.
Trump has made 12 campaign stops in Colorado. Back in 2010, President Barack Obama won by five points and if Clinton were to lose this state, it would be nothing short of a disaster for her.
03
Florida (29 electoral college votes)
Florida is the state that decided the 2000 presidential elections between George Bush and Al Gore. Bush's tiny lead lead him over the line. As some say, Trump's path to the White House is near impossible if he were to lose the Sunshine State.
The RealClearPolitics average of polls has Trump with a slender lead of 0.4 points. It puts Trump at 47 against Clinton's 46.6.
Among early voters, Clinton may be ahead, but a high turnout and things can easily be flipped. Campaigning in Florida has been war as both have blown up millions of dollars and many a hour pitching themselves. Again, the state has a high number of Hispanic voters and this could put Clinton over the line.
Florida is America's oldest state. 17% of the population is over 65.
04
Georgia (16 electoral college votes)
Georgia, a southern heartland of the GOP. Polling though paints a different picture. The RealClearPolitics poll may give Trump a 4.8 point lead but a NBC/WSJ gives Trump just a one point lead and that is causing panic among the GOPs.
NOTE:
The last time Georgia backed a presidential candidate? 1992. In 2008, they supported the Republicans by a five-point margin and in 2012 it was up to eight points!

Jill Stein, the Green Party candidate is not on the ballot. If those voters were to vote for Clinton, an upset would be on the cards. Early voting points to Democrats taking a lead, but all will be telling come election day.
05
Iowa (6 electoral college votes)
Another swing state that looks likely to go to Trump. The RealClearPolitics average is 3 point margin for Trump. It's a 90% white state and this bodes well for Trump. Trump has been in and out of the state recently and these six votes are crucial for Trump.
Clinton's campaign though pointed to Iowa, along with Ohio, as swing states that they are most likely to lose. They aren't overly bothered by this prospect.
06
Michigan (16 electoral college votes)
Since 1988, Michigan has given the Republicans the boot. It is one of the 'safe' states for the Democrats.
The RealClearPolitics average has Clinton ahead by 3.6 points. The Republicans are targeting Michigan as a state they can win to make up for losses in other key battleground states.
During the primaries, the state chose Bernie Sanders over Hillary Clinton and this may be the one thing that goes against Clinton. Trump on the other hand has been targeting the voters in the rural areas.
07
Nevada (6 electoral college votes)
Nevada, another closely fought state is on the knife-edge. This one could go anywhere. RealClearPolitics has Trump up by just 0.8 points while FiveThirtyEight asked if Trump has already lost Nevada two days ago.
Nevada has backed the eventual winner in all but one of the last 10 elections since 1972. Here also, the Democrats are confident of the high turnout among Latinos and Asian-Americans. Early voting is also pointing toward Clinton. If there is a strong Republican turnout on election day, things could go red.
08
North Carolina (15 electoral college votes)
In North Carolina, like in Nevada, Trump has a 0.8 point lead according to RealClearPolitics average. In New York Time's final Upshot poll in the state, the two candidates were a virtual tie at 44 a piece. Besides 2008 - where Barack Obama won - the state has voted Republican in every election since 1980.
If the Black voters turn up (they make 23% of the electorate in the sate), the eventual result could be blue.
09
Ohio (18 electoral college votes)
All eyes are on Ohio. It's the state that has voted in the eventual president in every election since 1960. This bodes well for Trump as RealClearPolitics average gives him a 2.2 point lead. Polls though have been swinging back and forth between both the candidates and it's hard to call this one. Again, with an 80% white population, this plays to Trump's strengths.
FiveThirtyEight gives Trump a 64% chance of winning against Clinton's 36%. Historical data does not help here. Since 1976, both the Republicans and Democrats have won the state five times.
Ohio along with Florida is key for Trump. Taking both states though, isn't very likely.
10
Pennsylvania (20 electoral college votes)
Pennsylvania has been a Democratic stronghold and will be difficult for Trump to secure an upset. With 20 electoral votes in the state, a victory for Trump would open up multiple paths to victory. Clinton delivered her final rally speech of her campaign on Monday night. She was joined by her husband and former president Bill Clinton, current president Barack Obama and first lady Michelle Obama.
This all depends on how much Trump has re-energised Republican areas of the state. While Clinton, on the other hand, has mostly focused on the urban areas of Philadelphia and Pittsburgh.
Over here, Trump trailed in most polls in the state. The RCP average has Clinton ahead by 2.1 points.
11
Virginia (13 electoral college votes)
Here is another state the Democrats will be hoping to win. From 1986-2004, the Republicans have won every election. The last two though - in 2008 and 2012 - were taken by the Democrats. That bodes well for Clinton. Clinton is ahead of the polls - having a wide margin of 5.3 points on the RealClearPolitis average but at one point she did have a double digit lead.
If Trump were to take the state, it would be significant, and be a sign that the Republican candidate is well on his way to victory.
12
Utah (6 electoral college votes)
Utah hasn't chosen a Democrat nominee since 1964 and will definitely not be doing so on Tuesday. It's significance in the list is not that it is a swing state. It's that Utah might be the only state of all 50 to hand a loss to both Clinton and Trump.
Utah-born Mormon, Evan McMullin, is running as an independent. According to him, he's competitive in 34 states. Polls in Utah have shown him neck and neck with Trump with Clinton a little bit behind. It's unlikely McMullin will carry the state, but if he does take away from Trump's base, this will be an interesting state to watch.