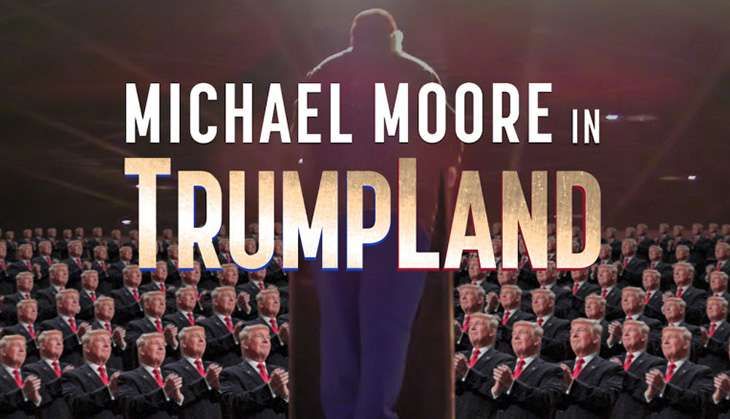 Michael Moore just shocked the American public by announcing that he was working on a surprise project. The subject of his project? None other than Republican presidential candidate and businessman Donald Trump.
Titled Michael Moore in TrumpLand. It's billed as the film "Ohio Republicans tried to shut down".
It's based on Moore's one-man play and will first be showing in Los Angeles and New York before spreading its wings. Over the past few days, Moore had been teasing an 'October Surprise' on the social networking site Twitter.
Michael Moore May Have A Surprise Project Just In Time For The 2016 Election https://t.co/6ZkZMHAnru

— Michael Moore (@MMFlint) October 16, 2016
Here's a brief description from the press release sent out to the media:
"The Academy Award winning director of Fahrenheit 9/11 and Sicko, Michael Moore is back with a surprise new film, "Michael Moore in TrumpLand". He dives right into hostile territory with his daring and hilarious one-man show, deep in the heart of TrumpLand just weeks before the 2016 election. The film will begin one week exclusive runs in New York at the IFC Center and in Los Angeles at the Laemmle Town Center 5 in Encino on Wednesday, October 19th."
Karwai Tang/WireImage
Many people queued up outside the IFC Center in Greenwich Village for the first showing of the documentary. The free screening also included a Q&A that lasted almost as long as the film.
The Guardian's Jordan Hoffman had this to say: People with megaphones, lighted signs and placards quoting Bob Avakian mixed with folks taking selfies in front of a Zoltan-esque Trump fortune-teller booth. One weary person looking for a spare ticket raised her index finger, a holdover from Grateful Dead shows, when people "need a miracle".
The real surprise: the movie itself consisted almost exclusively of footage.
This isn't the first time Moore has been involved in a presidential campaign. Back during the 2004 election season, Moore's Bush documentary 'Fahrenheit 9/11' released months before the polls to rave reviews and he even went on a speaking tour. Moore hasn't been vocal this time around but he hasn't been quiet either. He's publicly denounced Trump in more than one way but because of this secret project.
As Variety's Owen Gleiberman's said of the 73-minute documentary, "it's not a harangue, but Moore buries his analysis of Trump in a political love letter to Hillary."
Moore went and shot the movie and debuted it in New York City within 11 days and it's getting all the buzz. Especially because it's against a man people don't want to see becoming president. Somehow Moore managed to fly under the radar during its shooting, production and editing.
The movie will be available for purchase on iTunes starting 19 October.