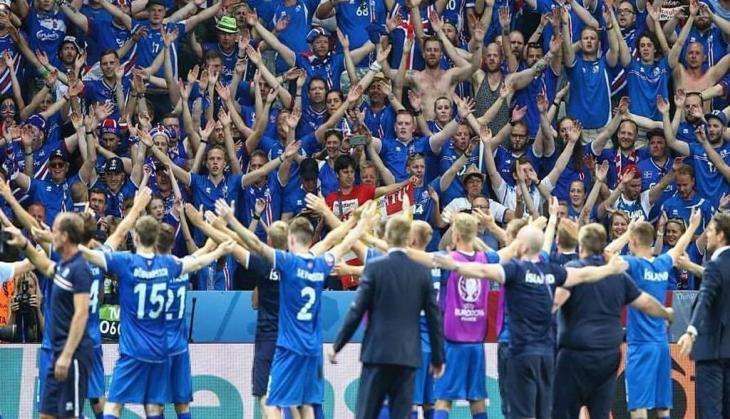 With a population of 330,000 people, Iceland's unlikely journey to the quarterfinals of the UEFA Euro 2016 has undoubtedly been one of the stories of the tournament. Their slaying exploits decorated with grit and guts have inspired the rest of the Europe to adopt the nation as their second team.
But, it's not just their determined game-play or shrewd tactics that has won hearts. Following their defeat to France in the quarterfinals, their greatest legacy will arguably be the - now iconic - "Viking Thunderclap" celebration.
The 'Viking' war chant, along with Iceland's achievements, has caught public attention around the world in recent weeks. The celebration has become a common practice for victorious teams at Euro 2016.
Bila aku tgk #Thunderclap Iceland ni , meremang bai bulu roma

*tapi thunderclap yg kluar time2 nk raya ni annoying😜 pic.twitter.com/jfydiFP128

— Rahman Jamalsson (@AbRahmanJamal) June 30, 2016
The finalists and hosts, France, were seen using the 'Viking clap' to celebrate their semifinals win over Germany on Thursday. As soon as the referee blew the final whistle, Les Bleus adopted Iceland's method of celebrating their win with intimidating clap and deep chants.
France is not the only team to have adopted the iconic way of celebrating their win, Wales also followed up their quarterfinal win over Belgium with an impromptu version of the Icelandic celebration.
Fans willfully mirror the celebration, where every clap is followed by a loud, hearty chant of 'huh'. The claps themselves increase in speed before the celebration reaches its crescendo and both fans and players begin cheering loudly.
According to Icelandic publication Morgunbladid, the song was adopted by Icelandic club Stjarnan on a trip to Scottish side, Motherwell during a Europa League clash. Though Stjarnan got knocked out by Inter Milan later in the tournament, fans of the Icelandic club introduced the clap to their national side.
Iceland may not have reached the final of the coveted tournament, but Lars Lagerback's side will surely be remembered when France or even Portugal make use of their iconic celebration method after winning the UEFA Euro 2016 title.