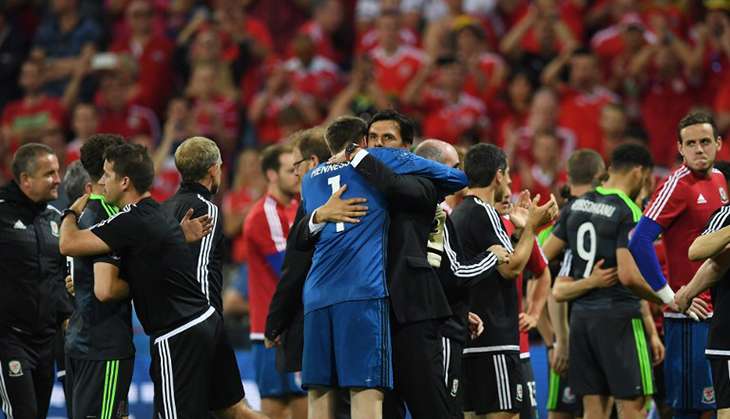 The exploits of the Welsh football team in Euro 2016 have exceeded the expectations of football experts (and the dreams of many fans).
While some have questioned the sustainability of the team's success, a closer inspection of their development in recent years reveals that the foundations of this success were firmly laid. Positive psychology, a strong team dynamic and the emergence of a national identity have all helped the team to reach where they are today. As Wales manager Chris Coleman said: "People think the end of this tournament is the end of this journey, but it's not. It's part of the journey ... This success is part of the learning process."
Until this year, Wales had not competed at a major international football championship since their World Cup quarter-final exit to a solitary Pelé goal in 1958. There was a brief glimmer of hope that their absence from major tournaments had ended during the Euro 2004 qualifying campaign, only to be extinguished by a 1-0 defeat to Russia over a two-legged play-off fixture.
The fallout of this near miss resulted in the managerial appointment of John Toshack, and while his five-year tenure did not lead to successful qualification for a tournament, the man himself believes it was the starting point for the emergence of the Welsh team. Specifically, during his time at the helm Toshack handed debuts to a number of players who have starred for Wales during Euro 2016 including: Chris Gunter, Gareth Bale, Joe Ledley, Aaron Ramsey, and Joe Allen. Toshack's willingness to give young talent a chance, has meant that these players entered Euro 2016 with about 270 caps between them, and a considerable amount of international experience.
Though Wales has had experienced and extremely talented players previously - Ian Rush, Neville Southall, Ryan Giggs, for example - none reached the heights that the current crop have over the last six years as a team.
There are potentially a whole host of explanations for this, but the transformation has largely been attributed to the vision of former manager Gary Speed, who revolutionised the team following his appointment in 2010.
Speed's legacy has certainly continued and arguably improved by Chris Coleman since 2012, and now Wales appear to have broken out of years of transition and perpetual under-achievement to enter a new era in which they are beginning to fulfil their potential.
Team culture