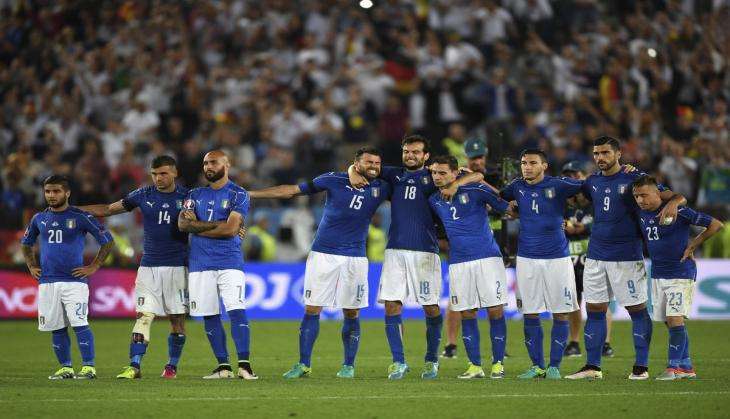 Germany beat Italy 6-5 to advance to the semifinals of Euro 2016 at the Bordeaux on 2 July.
Italy's Leonardo Bonucci levelled the scoreline in the 78th minute, when Italy was awarded a penalty due to Jerome Boateng's handball. The match saw the two heavyweights deadlocked at 1-1 which proceeded to extra time with no change in the scoreline.
Seven players in totality missed the penalty shoot in what is bound to go down as one of the tournament's most bizarre and electrifying penalty kicks. Of all the penalties, Matteo Darmian's miss proved to be the costliest. On the other hand, 26-year-old Jonas Hector slotted the winning penalty for Germany.
However, Azzurri head Antonio Conte has said that he is proud of his team. He told Goal.com that there is "no shame" in loosing a penalty.
Conte, who is set to take over at the helm of Chelsea FC, told Goal.com: "The lads gave everything they had against a very strong side. Being beaten by Germany on penalties is no shame, as we could've gone forward too. I am proud of what these players did. The world champions changed their system for us and that's a reason to be proud. Regrets? Only for the penalties, not for the effort and love they showed for the jersey. These players really proved everything and gave all they had. I don't like to make evaluations, I prefer to leave that to others. What interests me is that I had an incredible experience with these players, making Italy respected and feared by everyone".
"We tried and were able to make the fans proud of us. We made the players truly aware that it's a privilege to wear the shirt," he said.
While Italy and Germany have never met in a penalty shootout before, the world champions always have an upper hand on the penalties, having been unbeaten in spot-kicks since 1976.
Antonio Conte, Italy coach: "These lads went beyond the call of duty. They will remain in my heart." #ITA #EURO2016 pic.twitter.com/aCZTWHwNG6

— UEFA EURO (@UEFAEURO) July 3, 2016