Joy Tirkey
| Updated on: 10 February 2017, 1:48 IST
The tale of Italy and Germany never seems to end. Every time, Italy seems to get the better of Germany making it a one-sided love story.
Both teams till now have had an interesting run in the UEFA Euro 2016. Antonio Conte's men commenced their journey with a 2-0 win over Belgium. There was a small hurdle in the form of a 0-1 loss to the Republic of Ireland, but Italy seems to have got their rhythm back and in the most impressive way showed the reigning champions of Euro -- Spain, their way back to home. Adios amigos!
The Azzurrii's have definitely grabbed some attention and are touted to repeat the semi-final act of Euro 2012.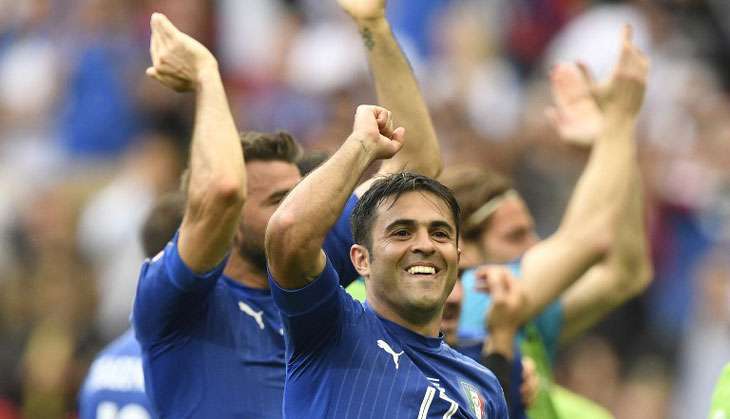 Photo: AFP PHOTO / MARTIN BUREAU
World Champions Germany started the tournament on a slow but steady note and were the talk of the town once the tournament began. Beating Ukraine 2-0 and getting stalled by Poland with a 0-0 scoreline didn't dampen their enthusiasm. Bouncing back with a dominating 3-0 win over Slovakia, Mannschaft showed that they are back.
It wasn't just the team that made headlines; Germany's head coach Joachim Loew's 'rude' and 'adrenaline-filled' gesture caught the attention of media across the world. However, nothing dampened the team's spirit and it seems like things are falling in the right place for the mighty Mannschafts.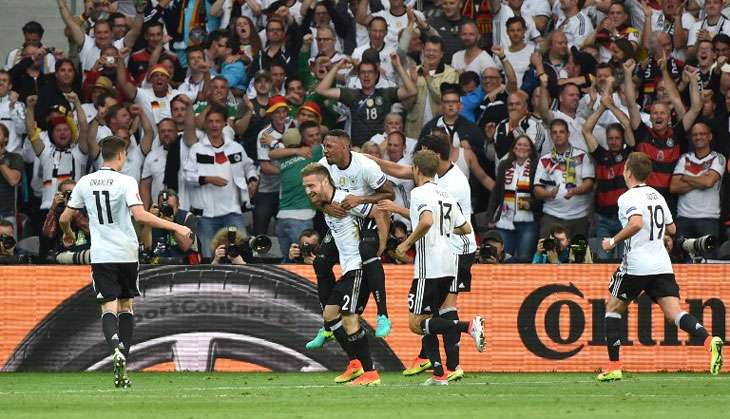 Photo: AFP PHOTO / PHILIPPE HUGUEN
Previous encounters
Italy have won a massive 15 times against Germany who won a mere 10 times out of their previous 30 encounters. Italy have earned four games and drew four games in competitive meetings. However, Germany have won two friendlies -- one in Zurich in June 1995 and a 4-1 victory in Munich on 30 March 2016.
The one game which everybody holds dear is the 1970 World Cup semi-final, where Italy battered West Germany to register a classic match of all time with a 4-3 score.
Players to watch out for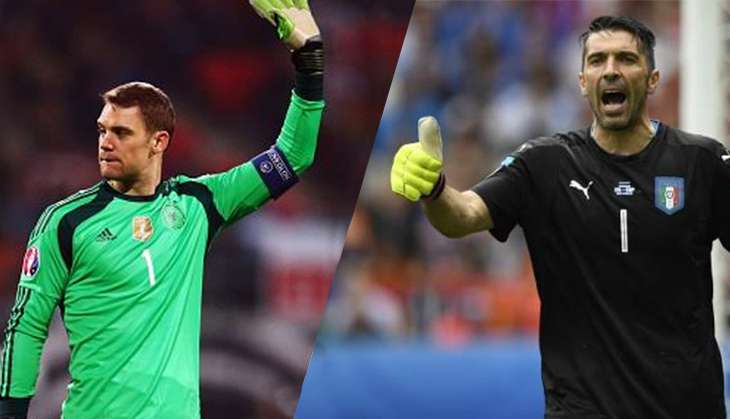 Photo: Alex Grimm/Bongarts/Getty Images
Jerome Boateng, Bastian Schweinsteiger, Toni Kroos, Mario Goetze, Thomas Muller... the list never seems to end for the Germans. Most of their players are capable of turning any match around.
But what will be interesting to see is how Manuel Neuer and Gianluigi Buffon will play the battle of keeping the ball at bay. If defence is the strong point both the teams, Jerome Boateng and Giorgio Chiellini's on-field presence would surely develop into a good watch.
When it comes to striking terror in the opposition's defence, Mario Gomez, and Thomas Muller, would do the job. On the other hand, Eder and Graziano Pelle possess the ability to repeat the same feat while playing Spain.
What to expect from the match
Boasting of deadlock security and opportunist forwards, Italy might continue doing what they do best - decimate Germany. With their ball possession skills that make opposition dance for the ball, Joachim Loew's men just cannot be written off. Things just might fall through for the Mannschaft.
While Joachim Loew says that his men have no 'Italy' trauma, Antonio Conte is confident that his boys will continue their golden run to the historic game.