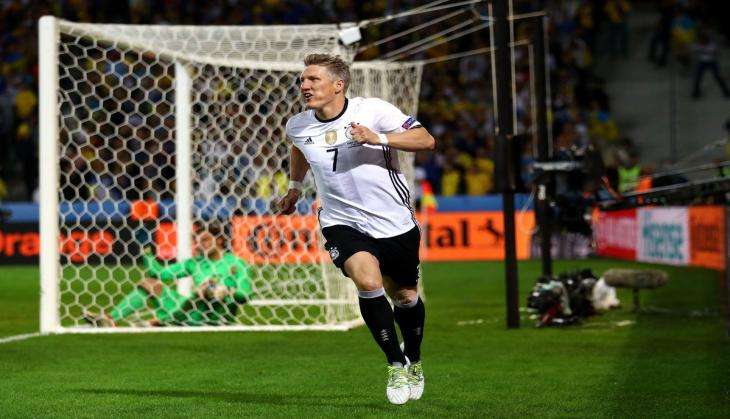 Ahead of Germany's match against Poland at Stade de France stadium, coach Joachim Loew has revealed that Germany will continue to bench Bastian Schweinsteiger.
Before the start of the coveted tournament, Schweinsteiger had suffered a knee injury. During Germany's last match against Ukraine, he was sent into the play in the 90th minute. To everyone's surprise, Schweinstieger scored within minutes of the match.
With a 40-metre sprint he received Mesut Ozil's cross and deposited at the back of the net. But, despite his impressive return, he will be benched for Germany's 16 June clash against Poland.
Joachim Loew said, "He does not have the strength to play 90 minutes." However, goalkeeper Manuel Neuer believes that the German captain can play a full match in a certain role.
Loew further added, "His role off the pitch has become more and more important in recent years, too."
"He is a leader, both on and off the pitch, very experienced - he has won everything at club level and is also a world champion. Bastian is an important go-to guy for me because he thinks a lot about football. He has a great influence on our team."
However, keeping Bastian Schweinstieger's role in mind and the form which he is, he shouldn't be benched. His presence in the field is far more required than being on the bench.
Neuer said, "Schweinsteiger is our best player in the position in front of the two centre-backs. It was important that he was subbed on against Ukraine, even though it was only for a few minutes."
"Basti knows where he has to stand in the deciding moments. He keeps the system, talks a lot on the pitch and gives us a good feeling during the match."
"It gave us the feeling to be under pressure although we were in control overall," Neuer said, before remarking that the full-backs defended too high. "Jerome Boateng had to defend alone in a few situations and the back four was not a line, but offset," he added.
Meanwhile, German Football Federation invited the class of '96 to attend the match. Germany last won the European Championships 20 years ago.