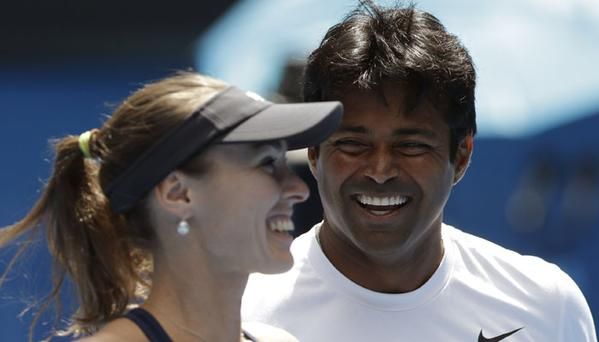 At Wimbledon this year, Sania Mirza, Leander Paes and Sumit Nagal did India proud. They won the women's doubles, mixed doubles and junior boys' doubles, respectively. Novak Djokovic, Serena Williams, Jean-Julien Rojer, Horia Tecau, Martina Hingis were the other winners.
Amongst all the winners at this year's Wimbledon Championships, Martina Hingis was the first to win a Grand Slam title back in 1996. Here is what all the winners of this year's championship were doing back in 1996.
Sania Mirza
Mirza was born in 1986 and by the age of six had started playing tennis. She started getting sponsors at the age of 12. So in 1996, at the age of ten, Mirza presumably was playing tennis in Hyderabad, where she was staying.
Leander Paes
In 1996, Leander Paes won a singles bronze medal at the Atlanta Olympics. Prior to that, he had reached the quarter-finals at the 1992 Barcelona Olympics in the men's doubles event alongside Ramesh Krishnan. He was also the number 1 ranked junior player in the world.
Novak Djokovic
Djokovic, born in 1987, started playing tennis at the age of four. He played locally within Yugoslavia till the age of 12 (year 1999), and thereafter with his rapid development, he moved to Germany for training before starting his international career.
Serena Williams
Williams' first professional event was in 1995, at the age of 14. However, the following year, Williams didn't play a single tournament.
Jean-Julien Rojer
Rojer, born in 1981, started playing tennis at the age of six. Seven years later, he moved to Miami for training. Between then and his time at the University of California, Los Angeles, he was plying his trade across America. There is no exact information as to where he was in 1996.
Horia Tecau
Tecau was born in 1985. He started playing tennis in 1992 at the age of seven in Romania. He was playing locally in Romania for a couple of years, but no other information about him is available.
Sumit Nagal
Nagal was born in 1997. Therefore, in 1996, he wasn't even born. Also, he's currently 17 and Hingis won the women's doubles title last at Wimbledon exactly 17 years ago. That's the range of age at this year's Wimbledon Championships.