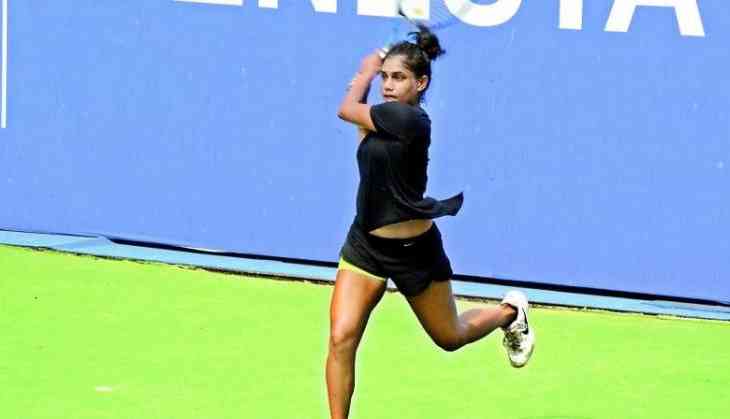 Siddharth Vishwakarma unleashed his power-packed game to dominate Nitin Sinha while Natasha Palha made a remarkable turn around to knock out top seed Zeel Desai as the two players entered their maiden final at the Fenesta Open National Tennis Championships here on Friday.
Left-handed Vishwakarma overpowered talented Sinha 6-3 6-2 in the men's singles semifinal, in which he stood out with his feisty ground strokes.

To his credit, Sinha tried to slow down the game but there was no stopping Vishwakarma, who overpowered his rival with ease.
Vishwakarma, who belongs to Varanasi and trains under Kamlesh Shukla in Lucknow, has only recently recovered from a throat infection that made him bed-ridden for six months.
"I could not play for eight months after getting my tooth removed. The infection spread, not allowing me to play. I was confident at least to make the finals here, if not win it. I am pleased with the consistency with which I played in this tournament," Vishwakarma said.
Talking about his game, the 23-year-old said he likes to play with heavy spin from the baseline but would work to add variations like serve and volley.
"I covered the court well today. Slow courts suit me. I just need to consistent in the final."
Vishwakarma will now take on top seed Arjun Kadhe, who had to dig very deep into his reserves to quell the spirited fight from Siddarth Rawat.
The Pune player came from behind to prevail 2-6 7-6(2) 6-2 after battling hard against his rival from Uttar Pradesh, for two hours.
Kadhe has lost two finals in the past (2012, 2013).
In the women's singles semifinals, Natasha Palha overcame a horrendous start as she lost the first five games of the opening set but came out a 4-6 6-4 6-0 winner against Zeel.
Natasha, who trains with Hemant Bendre, struck the ball nicely on both the flanks but most importantly she showed tremendous perseverance.
On the contrary, Zeel had a good game but stumbled due to lack of ability to handle pressure.
From an advantageous position, she could have gone for the kill but allowed Natasha, who hails from Goa, made a comeback as she struggled to contain her unforced errors.
Natasha's court coverage with swift movement allowed her to retrieve everything thrown at her.
"In Goa, there were not many facilities. Then I moved to Pune in 2012 to train. Recently Hemant Bendre and Kedar Shah have joined hands and that allows us to practice with good players such as Arjun Kadhe. It has helped in getting the game up," said Palha, who is playing at the Nationals only for the second time.
She had lost to Rishika Sunkara in 2013 in the semifinals.
"I have not played Mahak before but I feel ready for finals," Natasha said.