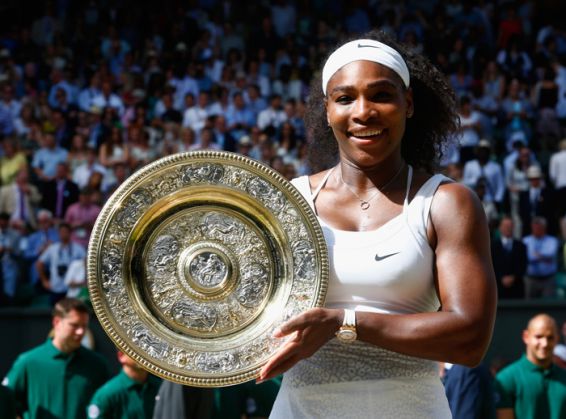 At well over 33 years of age, Serena Williams is a relative veteran in tennis terms. In her more-than-a-decade long career, she has had to battle it out with at least three different generations of tennis players. Yet, as she approaches the twilight years of her career, she shows no sign of loosening her grip over women's tennis. On Saturday, 11 July, she added another feather in her cap, as she completed a 'Serena slam' - winning all four majors in a row - for the second time in her career. The win took her to 21 grand slam singles titles, one short of Steffi Graf's 22 titles and three shy of Margaret Court's 24.
Serena vs Muguruza
In the final, Serena was slow coming off the blocks, as she was broken early on by her young Spanish opponent Garbine Muguruza. The 21 year-old Muguruza, who had knocked the American out of the 2014 French Open in straight sets in the second round, looked quite confident as she raced to a 4-2 lead in the first set. Unfortunately for the young finalist, that was when Serena finally hit her stride, as she won 9 of the next 10 games to win the first set, and gain a commanding 5-1 lead in the second. Serena did show some nerves subsequently, when she conceded her two-break advantage to let Muguruza take the second set to the 10th game. With her much younger opponent serving at 4-5, Serena played a flawless game to break her serve to love, and close out the match in straight sets, 6-4, 6-4, clinching her 6th Wimbledon title in the process.
New records broken
Two months short of 34 years, Serena Williams is already the oldest ever World number 1 in women's singles. With her triumph at Wimbledon 2015, she has now become the oldest ever female champion at a grand slam in the Open era. She is also the first player to win all four majors in a row, twice in her career. The last occasion she had done a 'Serena slam' was in 2002-03. The latest Wimbledon title now puts her three short of Martina Navratilova's record of 9 singles titles at the All England Club.
History beckons
In two months' time, Serena Williams could become the first singles player, across both genders, to win a calendar grand slam - winning all the majors in a calendar year - in 27 years, if she wins the US Open title. The last player to achieve the feat was Steffi Graf in 1988. By doing so, she will also overtake Chris Evert's record of 6 US Open titles, a record she is currently tied with, to become the first player to win 7 singles titles at Flushing Meadows. To top it off, she will emulate Steffi Graf's Open era record of 22 singles majors, and close down the gap with Margaret Court's overall record to just two titles. Given her domination in the game, especially in the last twelve months, Serena Williams remains the overwhelming favourite to come out triumphant in September.