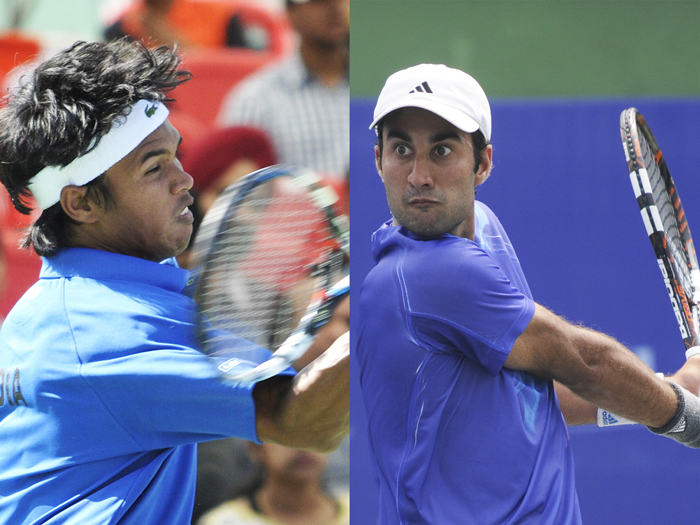 The Indian Davis Cup team came back from 1-2 down in its Asia/Oceania Group 1 Davis Cup tie against New Zealand, to win it 3-2 on the third and final day in Christchurch on Sunday, 19 July. Somdev Devvarman, who had been beaten in five sets in the first match of the tie, defeated Marcus Daniell in straight sets, 6-4, 6-4, 6-4, to level up the score at 2-2. Youngster Yuki Bhambri then won his reverse singles match against Michael Venus to ensure India's progress to the World Group Play-off.
Devvarman's demolition of Daniell
With India having lost the doubles rubber in the previous day, Somdev Devvarman found himself in a must-win situation against Marcus Daniell, a last minute replacement for Jose Statham, who missed the match due to illness. Daniell, who is a doubles specialist, found the going tough against Somdev's strong defensive game, and was regularly cornered by the Indian during his second serve. Devvarman broke the home player on four occasions in the match, and managed to close it out in straight sets.
Bhambri breezes past Venus
With Devvarman keeping India alive in the tie, the onus was on Yuki Bhambri to win the decider against Michael Venus. On the opening day of the tie, it was Venus who had beaten Somdev Devvarman in five sets, coming back from two sets down at one point. It was, however, a different story altogether against Yuki Bhambri, who gave him little room to attack his serve. The 23 year-old Indian had a flawless second serve, winning all the 29 points on it, while Venus committed eight double faults throughout the match, as Bhambri breezed to a 6-2, 6-2, 6-3 straight sets victory.