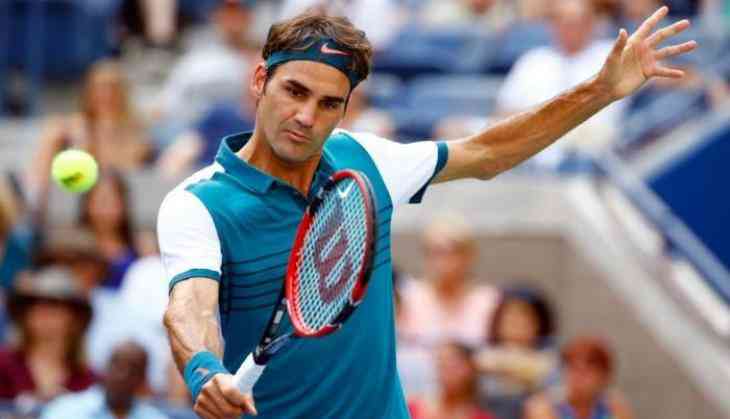 'Hungover' Roger Federer has a message for tennis' next generation
Nursing a head-splitting hangover on Monday morning after scoring his eighth Wimbledon title, Roger Federer threw a challenge to the younger breed of tennis players- 'play more attacking tennis'.
"Yeah, my head's ringing. I don't know what I did last night [after the Champions' dinner at the Guildhall in central London]. I drank too many types of drinks, I guess. After the ball we went to - what would you call it? I guess it's a bar - and there were almost 30 to 40 friends that were there. We had a great time. Got to bed at five, then woke up, and just didn't feel good. The last hour or so I'm somewhat OK again. I'm happy with that," the Guardian quoted him as saying.
Federer expressed his concern with the mindset of the younger generation, who still have not been able to knock of the 30-plus elite from the top of the ranks.
"I know you can easily get sucked into that [attritional] mode when you don't want to attack but, if you can't volley, you are not going to go to the net. Almost every player I played here wouldn't serve and volley. It's frightening to me, to see that at this level.
"I look at the stats and, whatever round it is, I see that the guy I'm going to face is playing 2% of serve and volley throughout the championship. I'm going, OK, I know he's not going to serve and volley - which is great for me. And the grass was playing fast this week. I wish that we would see more coaches, more players taking chances up at the net, because good things do happen there.
"I do believe the depth in the men's game is as great as it's ever been but, because of the way they play, maybe not super-fast like they used to back in the 80s, the margins are bigger because of the surface speed, the ball speed and the racket technology. You have to hit a lot of good shots to come through a Murray or a Djokovic. Over five sets, it catches up with you and it's favourable for the top guys."
However, Federer admitted that the points system does not favour younger players. "Since my generation and Rafa's generation, yes, the next one hasn't been strong enough to push all of us out. A young guy, if he wants to make a breakthrough, he can beat me or any top player, but, if he doesn't make a run to the final or win the tournament, he's not making any move in the rankings.
"It's not so easy to win five straight matches [in Masters and lower tournaments]. The consistency that's required by the young generation is quite complex. Because of our different playing styles at the top - put Stan [Wawrinka] in there, put Cilic in there and then the big four - it's hard for young guys to make a run through that."
But the tennis great admitted that this is how things are and the players are going to have to adapt to it is how it is. "The good thing is that the best player in the world should be the one winning the biggest tournaments," Federer said.
After his Wimbledon victory, Federer insisted that he could continue playing until 40, thus spearheading a late-life era of supremacy alongside rival and Spanish maestro Rafael Nadal.
Federer outclassed Marin Cilic of Croatia 6-3, 6-1, 6-4 in his 11th final at the All England Club that lasted for one hour and 37 minutes on the Centre Court on Sunday.
And with just a few weeks left to his 36th birthday, Federer insisted that if his health permits then he would be playing the tournament until he is 40.
The Swiss star returned back to his menacing best following the radical transformation he made to his playing schedule since slumping to a defeat to Canadian Milos Raonic in the semi-finals of the Wimbledon in 2016.
The victory makes Federer the oldest man to win at the All England Club in the Open era, which began in 1968.
He has now moved clear of seven-time Wimbledon titlists William Renshaw and Pete Sampras.
With Federer's fifth crown of the year, the Swiss rise to No. 3 - his highest rankings position since August 2016.
His career title count now stands at 93, third on the all-time men's list, behind Jimmy Connors (109) and Ivan Lendl (94) and ahead of John McEnroe (77) and Rafael Nadal (73).
-ANI