Rohan Raj
| Updated on: 13 February 2017, 3:17 IST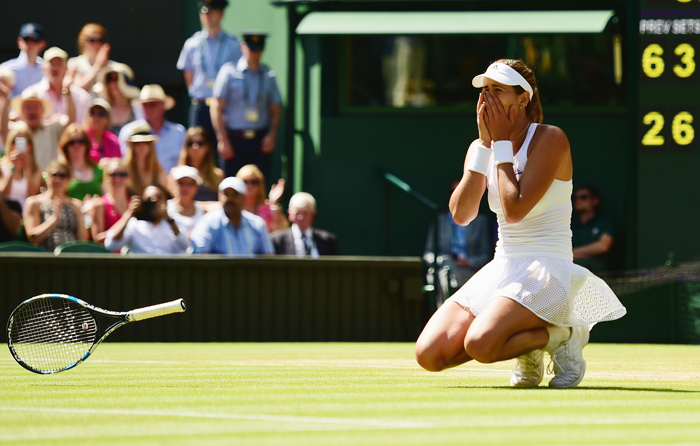 Before her first round game at the 2015 Wimbledon Championships, Garbine Muguruza had revealed that she wasn't too comfortable or sure about playing on the grass court. But within a span of six hard-fought games, the Spanish tennis sensation has stormed her way past popular opponents to reach her maiden Grand Slam final.
Agnieszka Radwanska, the 13th-seeded Poland player, recently became the latest addition in Muguruza's list of victims at the All England Club this year. The Pole, who had defeated Muguruza at the 2014 Australian Open, failed to get past the 20th-seeded player this time around. Radwanska lost 2-6, 6-3, 3-6 in the semi-final.
Muguruza's dream-run at the Wimbledon Championships has brought her face-to-face with World No. 1 Serena Williams - an opponent she clearly understands. The Spanish player, who has to nothing to lose, will have to play to her strengths if she intends to bag her maiden Grand Slam title.
Highlights of Muguruza's career
The Spanish player won her first WTA singles title after defeating Klara Zakopalova in straight sets in the 2014 Hobart International final.
Muguruza recovered from a set down to stun tenth-seeded Caroline Wozniacki in three sets to reach the fourth round at the 2014 Australian Open.
Her most famous win came at the 2014 French Open when she handed the World No.1 and defending champion Serena Williams her worst-ever Grand Slam loss (6-2, 6-2) in the second round.
At the 2015 Wimbledon Championships, the 20th-seeded player crushed 10th-seeded Angelique Kerber, fifth-seeded Caroline Wozniacki and 15th-seeded Timea Bacsinszky to reach her maiden Grand slam semi-final. She went on to defeat 2012 runner-up Agnieszka Radwanska and became the first Spanish woman to reach the Wimbeldon finals since Conchita Martinez in 2000..
Her dream-run at the 2015 Wimbledon Championships helped her reach the top 10 for the first time.
Fun-facts:
Muguruza was born in Venezuela but found her homeland in Spain. She stands at 6 feet tall.
Muguruza said that she would never take a selfie with popstar Justin Bieber. If she had to take a selfie with someone, Muguruza said it would be Beyonce.
Muguruza played her first grass-court tournament just three years ago.
Head-to-Head: Serena Williams vs Garbine Muguruza
The duo has locked horns on two occasions in the past, with both winning one game each.
Garbine Muguruza stunned World No. 1 Serena Williams by beating her 6-2, 6-2 in the second round of the 2014 French Open.
Serena Williams defeated Garbine Muguruza 2-6, 6-3, 6-2 in the fourth round of the 2015 Australian Open.
Muguruza's form at Wimbledon 2015:
Semi-final: Defeated Poland's player Agnieszka Radwanska 6-2, 3-6, 6-3.
Quarter-final: Defeated Swiss player Timea Bacsinszky 7-5, 6-3.
4th round: Defeated Danish player Caroline Wozniacki 6-4, 6-4.
3rd round: Defeated German player Angelique Kerber 7-6 (14-12), 1-6, 6-2.
2nd round: Defeated Croatian player Mirjana Lucic-Baroni 6-3, 4-6, 6-2.
1st round: Defeated American player Varvara Lepchenko 6-4, 6-1.