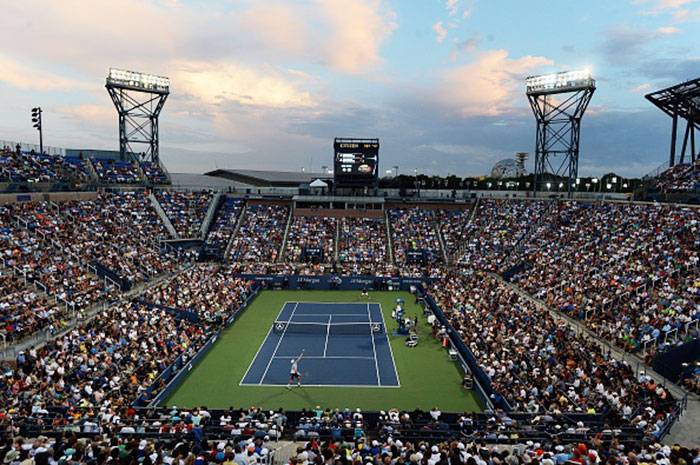 This years US Open Grand Slam has a chance of featuring the top two players in both the men's and women's games in the respective finals. In the first semi-final of the day, Italian Flavia Penneta takes on Romanian Simona Halep. After that, Italian Roberta Vinci has an uphill task against world number one Serena Williams.
In the men's game, Serbian and world number one Novak Djokovic takes on ninth seed Marin Cilic of Croatia. The last semi-final of the night features an all Swiss lineup as fifth seed Stan Wawrinka takes on 17-time Grand Slam winner and fellow countryman Roger Federer.
The question is: will any of Friday night's four semi-finals be an upset? We take a look at the semi-finals and examine the possibility of an upset.
Flavia Pennetta vs Simona Halep
Simona Halep will be playing in her maiden Grand Slam semi-final when she takes to the Arthur Ashe Stadium on 11 September. On the other hand, Flavia Pennetta had reached this stage two years ago. Twenty three-year-old Halep is 1-3 against her her 33-year-old Italian opponent. Both are coming off hard fought three-set victories in the quarter finals.
Back in 2013, the pair met at US Open round 16 with Pennetta winning 6-2, 7-6. Halep did win the previous clash at the Miami Open earlier this year, 6-3, 7-5. It will be a hard fought match this time.
Prediction: Halep, who has more titles and a better record in 2015, will come out on top in a hard fought three-set match.
Roberta Vinci vs Serena Williams
No one is doubting the prowess of Serena Williams and this is expected to be a one-sided match. Roberta Vinci came into the tournament as an unseeded singles competitor and has nothing to lose. Vinci is playing in her first ever Grand Slam semi-final and has been the underdog story of the tournament. Vinci has never defeated Williams with a 0-4 record, two being in Grand Slams.
Williams is looking for a career Grand Slam title. Vinci has won 32 WTA titles and is currently ranked number 43 in the world. Williams is number one and hasn't looked out of form at all in this tournament.
Prediction: One set may be hard fought but Serena Williams will come out on top in straight sets.
Novak Djokovic vs Marin Cilic
The Serb, Novak Djokovic, may be the world number one player, but he is playing against the 2014 US Open champion, Croatian Marin Cilic. Djokovic has already won the Australian Open and Wimbledon so far this year. In the French Open final, he lost to Swiss star Stan Wawrinka. Cilic may be up and coming but he hasn't beaten Djokovic in their past 13 clashes.
Djokovic stuttered a bit but came out relatively unscathed in the quarterfinals. Cilic on the other hand, had a tough five set victory. The one time they met at the US Open was back in 2008, when Djokovic came back after losing the first set to win in four.
Prediction: Will be a hard fought match once again and Cilic will push Djokovic to the brink and prevail in five sets.
Roger Federer vs Stand Wawrinka
Both are from Switzerland. Both are really good friends. But both are fierce rivals on court. Federer is number two in the world and Wawrinka is world number five. Wawrinka beat Federer at Monte Carlo last year after playing together professionally for ten years. Then, at this years French Open, Wawrinka came out on top in three sets en route to the title. Federer has a 16-3 lead over his fellow countryman. In Grand Slams too he has a 4-1 record. Both have never faced each other in the US Open before.
Prediction: This one might not be so hard fought with Federer being in sublime form. Roger Federer will come out relatively unscathed in four sets.