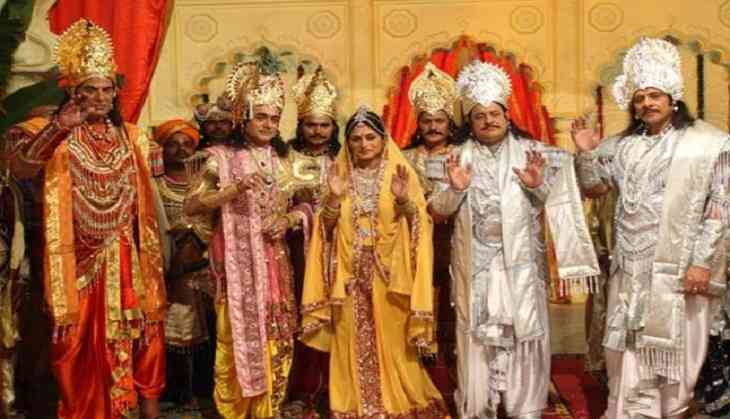 In the wake of coronavirus lockdown, the Doordarshan channel has given a treat for his audience by re-telecasting its epic mythological drama series Ramayan and Mahabharata.
Interestingly, this strategy of Doordarshan also worked out on their TRP chart as these two mythological shows have been watched at higher rates across the country. Earlier, reports claimed that Ramayan has garnered over 170 million views.
As people during the lockdown, are spending their time watching re-running tv shows on the small screen. Especially, Ramayan and Mahabharata have become the most popular choice of sofa spuds.
Also Read: Dipika Chikhlia aka Ramayan's Sita with PM Modi and LK Advani in this old pic goes viral
Even these shows have also flooded the Internet by storms with hilarious memes and also throwback pictures related to the shows.
Today we have brought special reports for gossip-mongers that will update their knowledge about Mahabharata.
People always love to know about their favorite stars personal and professional, especially their handsome salary.
So, today we are going to tell you the salary of the popular stars' salary in the show.
According to the reports of TellyChakkar, the per episode salary of the Mahabharata show star cast was Rs 3000. Mahabharata show series consisted of 94 episodes in total.
REFRESH your memories!!
Watch #Mahabharata on DD Bharati NOW#Doordarshan pic.twitter.com/ezzFCbRnW0

— Doordarshan National (@DDNational) March 28, 2020
The interesting thing about their salary was that every actor was offered the same amount which means no salary discrimination between them.
Isn't sound interesting?
Because, in today's era, a star charges whopping amount for a small role which is just 8-10 times than the amount Mahabharata star cast received in the 80s, 90s.
There is no doubt that 3000 rupees were a huge amount during those days.
The Mahabharat serial cast was really huge and it was aired on DD National tv from October 2, 1988, to June 24, 1990. The show was produced by B.R. Chopra and helmed by Ravi Chopra.
Also Read: Mukesh Khanna on rerun of Ramayan, Mahabharat: Shaktimaan actor mocks Sonakshi Sinha for making blunder in KBC