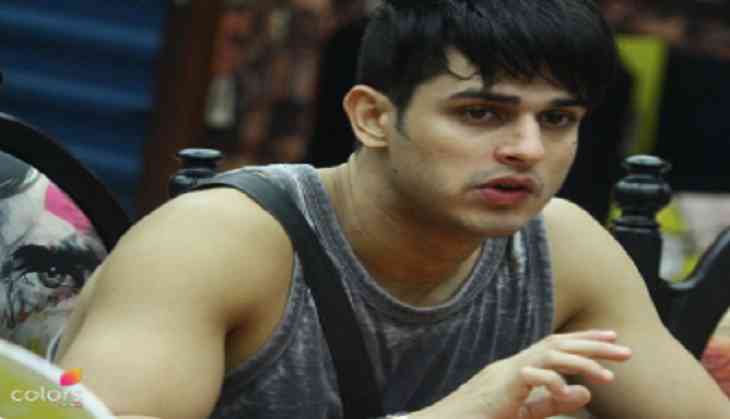 Popular reality show, Bigg Boss season 11, is all over the news these days and for a bad reason though. One of it's contestant, Priyank Sharma, of Splitsvilla 10, had just re-entered the Bigg Boss house again and his entry has caused a lot of troubles for other contestants and himself too.
In a recent incident that happened in the house, Arshi Khan and Sapna Chaudhary got into a verbal spat over Dhinchak Pooja's viral song that she had made after the orders of the Bigg Boss. During the fight, Priyank suggested Sapna to use the phrase 'Goa-Pune kaand' in order to irk Arshi and Sapna does that. After the scene, Arshi breaks down and claims that her parents will disown her after watching this episode.
Also Read: Bigg Boss 11: Shilpa Shinde opens up about her MMS, one night stand and her marriage plans
Later, in the following incident, reports came that FIR has been filed by Arshi Khan's publicist against Priyank Sharma, Sapna Chaudhary, Colors Channel and Endemol for bringing up the controversy. Now , an addition in the same incident has taken place and it is not a good news for all Priyank Sharma's fans. As per reports by a leading Entertainment portal, Tellychakkar, Priyank had now been sued for Rs 50 Lakh by a senior journalist and publicist Flynn Remedios.
Flynn Remedios is Arshi Khan's Management Agency and had demanded a written apology from Priyank over the matter, failing which he will be dragged to the court. Flynn had claimed that Priyank should be sent to jail for crossing his lines. He further said, "He must learn that being in the Bigg Boss house does not make him God. The law of the land applies to everyone and even to Bigg Boss inmates. I am suing him under section 354, 500 and section 509 of the Indian Penal Code."
Talking about Arshi Khan's Goa controversy, Flynn said, "Last year, we had registered an FIR at the Oshiwara Police Station u/s 354, 509, and 34 against some unknown persons for publishing false, fake and defamatory news about Arshi Khan. The news pertained to a report stating that Arshi Khan was arrested in Goa in a trafficking case. This is completely fake news. Such an incident never happened. In that sense all the websites referring to the fake Goa incident are guilty of running false, fake news. There were 2-3 dummy websites created solely for the purpose of generating revenue by running fake news, generating clicks based on this fake news and making money through Google Adsense which were running this fake news about Arshi Khan's Goa incident. Priyank Sharma did not bother to verify. He possibly just googled Arshi Khan or was told by someone else and blurted the same in the house, even though he was clearly warned by Bigg Boss not to do so."
Also Read: Bigg Boss 11: Here is what Arshi Khan's Pune and Goa 'kaand' is all about?
Talking about the Pune controversy, Flynn revealed that Arshi was not arrested in the fake raid that happened but was detained. The police had sent her to a Sudhar Ghar for rescued women where other people tried to steal her money and clothes but Arshi somehow managed to fight back. The Sudhar Ghar was a private one and was not run by the State.
Flynn further said that a case has been filed in the Bombay High Court against the Pune police for revealing her name into the media as the identity of a 'victim women' must be protected and should not be revealed in the media.
Also Read: Bigg Boss 11: Salman Khan lashes out at Priyank Sharma, Jyoti Kumari got evicted; 5 Catch points from last night's episode
For more updates related to Bigg Boss season 11, stay tuned!