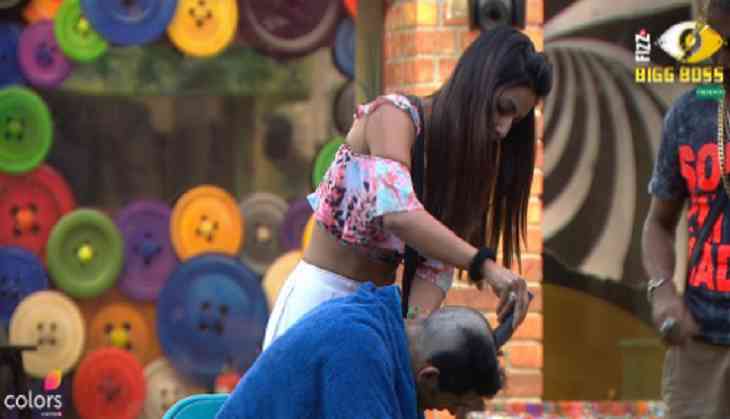 The last night's episode of the reality show, Bigg Boss 11 saw the beginning of a new week in the house and with the new week comes new list of contestants who will get nominated for the week. But this week's nomination was quite different from the rest as the contestants were called up by Bigg Boss and their friends have to save them by performing a task given to them.
For those who missed the last night's episode of the reality show, here we bring to you the highligts in the form of 5 Catch points that will help you to stay updated.
ALSO READ: Bigg Boss 11: Puneesh Sharma asking Bandgi Kalra to remove her clothes will make you wonder what's happening in the house; see video
Check them out:
.@eyehinakhan and Luv Tyagi discuss about @ipriyanksharmaa and Benafsha's relationship. Watch #BB11 to see what they are saying.

— COLORS (@ColorsTV) November 13, 2017
1. Puneesh complimented Hiten about being the only celebrity in the house. Priyank and Benafsha are seen spending time with each other. Benafsha tried to wake him up while he complemented about her hands and said that they are soft and kissable. Hina told Luv that Priyank had told her that Ben is falling for him.
Questions are being raised on @lostboy54 & Shilpa Shinde's newfound friendship. Tune into #BB11 to find out who's saying what! pic.twitter.com/ifnjBTM9lR

— COLORS (@ColorsTV) November 13, 2017
2. Vikas is seen sitting in the kitchen while Puneesh makes fun of Vikas's farts. Later, Puneesh and Bandgi discuss about Vikas and Shilpa after which Akash goes into the kitchen and announced that it was all planned between them and they were doing it just for the sake of show.
ALSO READ: Bigg Boss 11: Here is how Twitterati reacted on Vikas Gupta and Shilpa Shinde's patch up in the house
.@eyehinakhan gets nominated, but she can save herself. Find out how by tuning in to #BB11. pic.twitter.com/0RA5xsPOPZ

— COLORS (@ColorsTV) November 13, 2017
3. Bigg Boss announced the housemates that Hina is nominated for the week but if Luv made a tattoo of "zero" on his forehead from Sapna, she would get saved. Luv agreed and did that. After Hina came the turn of Akash and for him Hiten shred his family photograph. Vikas got upset with Hiten as Akash already had the immunity shield.
Woah! Did you expect @ipriyanksharmaa to do that? Tune in now to #BB11 to catch all the action. pic.twitter.com/lNi3PVlew9

— COLORS (@ColorsTV) November 13, 2017
4. Hiten got nominated and will get saved only when Priyank will shave his head. Piyank agreed and Hina removed all the hair from Priyank's head. Vikas told Hiten that he did not liked Priyank's decission but since he would not listen to him, he did not stopped him.
ALSO READ: Bigg Boss 11: The favourite contestant of Salman Khan revealed!
.@lostboy54 tries to talk Benafsha out of nominating herself for @ipriyanksharmaa. Watch #BB11 to catch all this drama.

— COLORS (@ColorsTV) November 13, 2017
5. Priyank asked Ben to get nominated for two more weeks after which he will get safe from this week's eviction and she agreed. Vikas and Priyank tried to explain it to her but she did not listened. Lastly everyone was seen making fun of Akash and spanked his butt.
ALSO READ: Bigg Boss 11: Know who will be the winner of this season
For more news related to Bigg Boss 11, stay tuned!