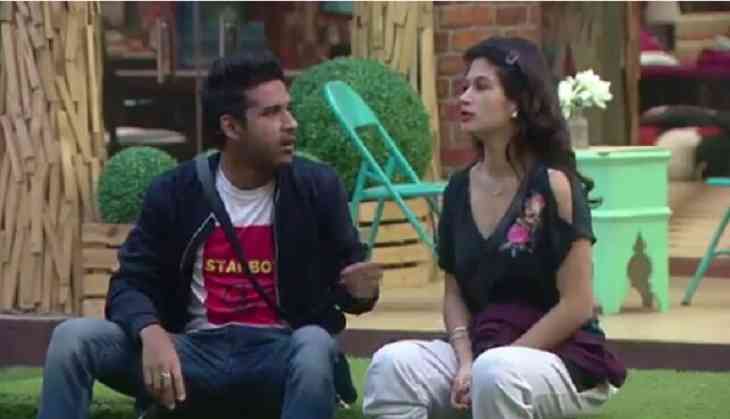 Popular reality show Bigg Boss 11 just witnessed the eviction of Bandgi Kalra from the house. She along with Puneesh Sharma and Luv Tyagi was nominated this week for eviction and due to lesser number of votes, she got out of the house in last night's Weekend Ka Vaar episode in which she bid goodbye to all her co-contestants but what touched everyone's hearts was the time when she bid goodbye to her love in the house Puneesh who got saved this week.
When the host of the show, Salman Khan announced that Luv Tyagi was safe, the couple turned sad knowing the fact that one of the two will have to leave the house. He sent both of them into a separate room to spend some private time with each other. Salman even claimed that their love is true and so there is no need to prove anyone. While the lovebirds were inside, a video was played that showed all the special moments that they shared inside the house that left both of them teary-eyed.
ALSO READ: Bigg Boss 11: Arshi Khan to get touchy with Hiten Tejwani and Vikas Gupta in the house; see video
When the name of Bandgi was announced, her better half cried his heart out to listen her name. He was left heartbroken and cried while hugging her tight. The video was truly very emotional and even made the Twitterati flood out with emotions.
ALSO READ: Bigg Boss 11: Here are some shocking revelations about Hina Khan and Arshi Khan that Bandgi Kalra made after getting evicted from the house
Check out how the Twitter users reacted after seeing their heartfelt video:
Today's episode was too emotional! Puneesh was crying like a baby! You guys made me cry. I hope your love story is real. @BandgiKalra1

— Tina Das (@ishitadas105) December 3, 2017
Retweet if u were about to cry.
Aaj Puneesh aur Bandgi ko dekh ke pta chal gya that they were best couples. Unlogo kabhi v ek dusre ki buraai nhi ki. @BandgiKalra1 @shilpa_shindey @Shilpa_Shinde1

— AMAN KUMAR (@amank985) December 3, 2017
I really think I am going to cry. No matter what anyone says Bandagi and Puneesh truly stood by each other through thick and thin.i legit thought Luv would be eliminated today 😭😭😭 #BB11

— Lam 👑 (@A_Lam19) December 3, 2017
Bandagi's eviction is really inappropriate.. Luv is useless ... Feeling so damn bad for puneesh... His tears made me cry #BB11 #BiggBuzz #BiggBoss11

— Sakshi Sakpal (@SakshuSakpal11) December 3, 2017
First time #Puneesh n #Bandagi's love story made me cry.. so emotional video #BB11 #BiggBoss11 @BiggBoss @ColorsTV #ImWithShilpa

— Daman (@DamanPrince18) December 3, 2017
@BiggBoss @ColorsTV @EndemolShineIND puneesh and bandgi moments made me cry ... why u evicted bandgi .. I am crying #BB11 ..can't watch BB anymore

— - (@turcorre) December 3, 2017
idk puneesh and bandagi's story fake or real. Bt they made me cry. 😓😧

— ♥QuEeN~KaReEnA♥ (@nickymeshram02) December 3, 2017
That puneesh-bandagi video made even me cry! Let's see how one of them plays the game. #bb11 #BiggBoss11

— Ritika Singh Puria (@foxy_rajput) December 3, 2017
Puneesh And Bandgi's farewell is so heart touching. Made me cry #BB11

— Ameera (@ameera_ameera7) December 3, 2017
ALSO READ: Bigg Boss 11: Bandgi Kalra's boyfriend wants to breakup with her on Television in this manner
For more news related to Bigg Boss 11, stay tuned!