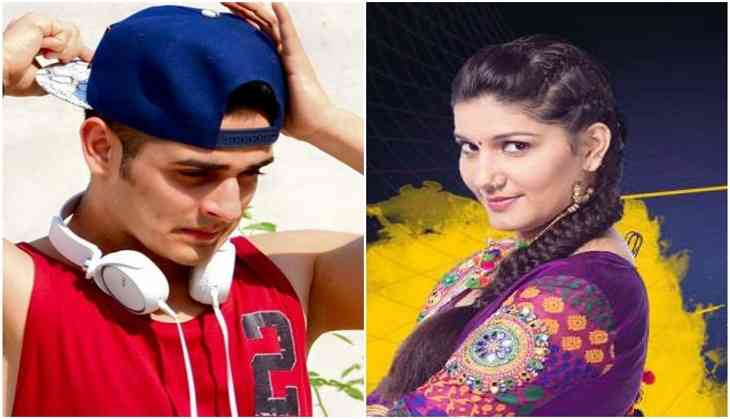 Popular reality show of Television, Bigg Boss is very famous for creating controversies in every season and it seems as if this season of the show is on the top. In the very first episode of the show, the contestants began to fight with each other and just in the first week Priyank Sharma of Splitsvilla 10 was thrown out of the show for physically hitting a contestant and his exit created a lot of buzz amongst the fans and the housemates.
Priyank who had just entered the show again as a wildcard contestant but it seems as if troubles will not leave him alone. In yet another incident that happened in the reality show last night, a case happened in the house that included Arshi Khan, Sapna Chaudhary and Priyank Sharma and an FIR has been filed against Sapna, Priyank, Colors Channel and Endemol.
Also Read: Bigg Boss 11: Hina Khan's parents on fight with Puneesh Sharma, Akash Dadlani, 'It's difficult to see her like this'
What exactly happened was during a fight between Sapna and Arshi, Priyank suggested Sapna to poke Arshi and say 'Pune-Goa'. After Sapna did that, the fans got to witness a very different side of Arshi in the show. She was seen in tears and shock and later went to Priyank and said that it was something personal and which should not be talked about in the public platform. Not only this, she even said that her parents will not talk to her after watching this particular episode.
Check out a glimpse of their verbal fight:
Sapna Choudhary loses her calm at Arshi Khan & Akash Dadlani. Tune in tonight at 10:30pm to find out why! #BB11 #BBSneakPeek pic.twitter.com/5tvUwo29iZ

— COLORS (@ColorsTV) October 27, 2017
Meanwhile, according to reports by a leading daily, Indian Express, Arshi's publicist, Flynn Remedios had filed an FIR against the contestants. A statement from the FIR read, "Filing FIR/criminal complaint against Bigg Boss 11 contestants, Priyank Sharma, Sapna Choudhary, Colors, Endemol, today under various IPC provisions concerning the dignity of a woman in legally privileged and protected cases. Colors and Endemol are accused/guilty of permitting telecast of legally privileged/protected and subjudice court matters including the right to prevent or avoid self-incrimination by accused or victim woman and using it for TRP and financial gain."
Also Read: Bigg Boss 11: Priyank Sharma of Splitsvilla 10 re-entered, Dhinchak Pooja's latest song; 5 Catch points from last night's episode
Earlier Priyank was thrown out of the show for hitting a co-contestant during a fight. He was asked by the host of the show, Salman Khan to leave the house because of breaking the most important rule of the house.
Also Read: Bigg Boss 11: Here's how Salman Khan's cabin inside the house looks like
For more updates related to Bigg Boss season 11, stay tuned!