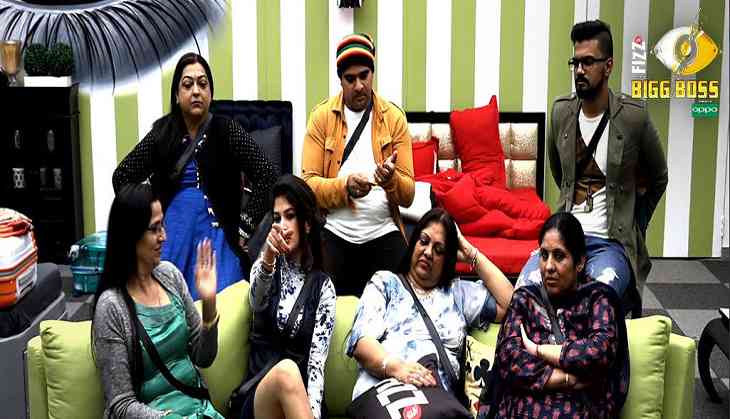 The last night's episode of the reality show saw drama in full too mode as the family members of the contestant started arguing inside the 'padosi' house. Vikas's and Akash's mother had an argument while the contestants indulged in the task.
For those who missed the last night's episode of the reality show, here are the highlights of the show that will update you about the show and its recent happenings.
Check them out:
The moment of happiness when you finally defeat the topper is amazing, isn't it? #BB11 pic.twitter.com/3fZlGyjfTB

— COLORS (@ColorsTV) December 27, 2017
1. Hina announced the next part of the luxury budget task in which the contestants had to ignore a certain contestant for a period of time while the contestant had to get reactions from everyone. The game began and Akash did not understood the game and reacted to her. Next came Priyank's turn and he was able to gather few reactions.
The loved ones get into an argument while counting the reactions. There's more to come, tune in for Akash Dadlani's turn now! #BB11 pic.twitter.com/tqp8Ql0XH9

— COLORS (@ColorsTV) December 27, 2017
2. Inside the Bigg Boss's padosi house, everyone including Rocky, Bandgi and Ashutosh talked about Vikas's mother and how she is forcing her opinion on everyone like Vikas. Akash dealed with everyone that he would give them reactions if they respond to him.
Akash Dadlani's mother gets emotional because of the behaviour towards her son. Keep watching #BB11 to see what will happen next!

— COLORS (@ColorsTV) December 27, 2017
3. Akash's mother started crying when she saw that Vikas's mother poking her about her son and when he called Vikas a 'gadha'. Everyone consoled her. Vikas failed in the task and his mother got irritated with everyone.
Luv Tyagi is successful in evoking a reaction from some of the housemates. Tune in to #BB11 now!

— COLORS (@ColorsTV) December 27, 2017
4. Luv emerged out to be the winner in the task.
The housemates talk about the aftermath of the Task. Tune in to all the intense discussions on #BB11!

— COLORS (@ColorsTV) December 27, 2017
5. Everyone talked about the fact that the mothers too have started fighting in the house that irritated Vikas and he fought with Priyank and others.
For more news related to Bigg Boss 11, stay tuned!