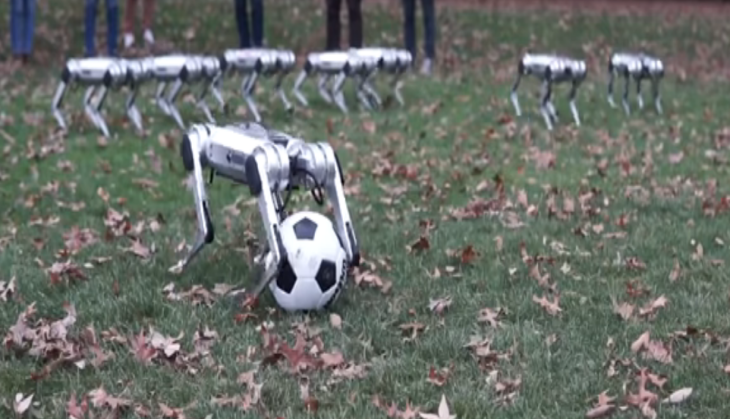 A viral video has surfaced the Internet in which robots were seen playing football with each other. The video has garnered over 4 lakh views on YouTube. In the video, a group of mini cheetah robots shared by MIT's Biomimetics Robotics department on the video platform.
The video showed the advancement in technology that has amazed several people. The robots were seen playing footballs just like the professional football players do.
Also, the mini cheetah robots took backflip and also at one point they were seen doing pushups altogether.
The video has received applaud from netizens but some were raised their concerned that this kind of innovation will result in 'AI robot apocalypse' in the future. Many got scared if these robots could harm humans and also the dominant form of intelligence on Earth.
See video:
Netizens were left stunned with the skills that inculcated in these mini cheetah robots and flooded the comment section.
"Can't wait for humanity to look back on this playful video and wonder what went wrong after our robot overlords take over," a user wrote.
Another user wrote, "They're so cute, I'm not even going to be mad when they come for me." "That's impressive technology," one of the users wrote.
Also Read: Japanese companies ban women from wearing glasses at work; reason will surprise you!