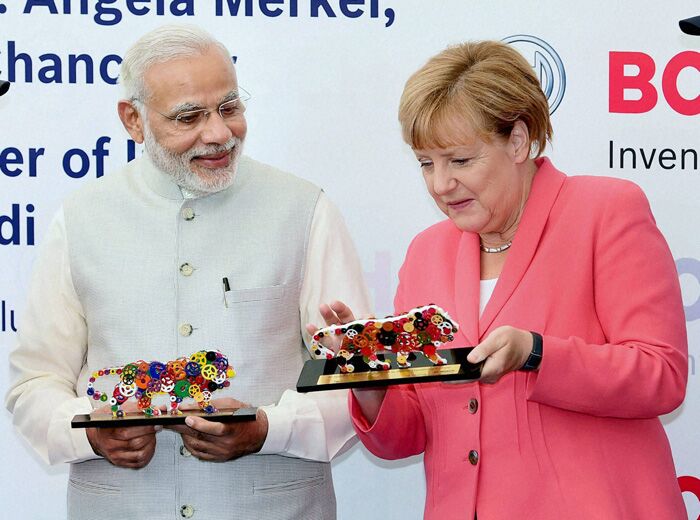 170 German companies in India is a reflection of strong bilateral ties
18 Memorandums of Understanding signed between India and Germany
India and Germany signed deals worth $2.25 billion
Bosch said it plans to invest Rs 650 crore in 2015
With India going digital, the Indo-German relations will play a pivotal role in shaping the country into a technology-driven nation. Reports and figures suggest that Germany is India's second largest collaborator worldwide, in terms of scientific output across all subjects.
Indian investors welcome in Germany
After talking business with Prime Minister Narendra Modi, German Chancellor Angela Merkel visited the Silicon Valley of India - Bengaluru - to discuss technology, on the last day of her visit to India.
The visit to the Bosch facility in Bengaluru turned out to be fruitful as both the leaders exchanged views about technology and discussed ways in which both nations can cooperate to further build this vital sector.
German engineering & India's IT expertise are fused here in Bengaluru, says Chancellor Merkel at Indo-German Summit pic.twitter.com/1jFYgwuXAu

— Vikas Swarup (@MEAIndia) October 6, 2015
Addressing the Indo-German Business Summit, Merkel said that Bengaluru has seen the fusion of German engineering and India's IT expertise. Highlighting the powerful partnership which both the nations share, Merkel added that the presence of nearly 170 German companies in India is a reflection of strong bilateral ties among the two nations.
She added that Indian investors are welcome to invest in Germany.
Modi pushes 'Make in India'
Setting favourable conditions for business has been a key point for some time to attract investments in India.
The tree of India-Germany partnership will blossom. This partnership is a force of good for the world. http://t.co/ljr6LgHqBj

— Narendra Modi (@narendramodi) October 5, 2015
Modi emphasised that India is keen and committed to setting "favourable conditions for business."
German partnership in Smart Cities, Clean Ganga, waste management, education is taking concrete shape. This will accelerate our efforts.

— Narendra Modi (@narendramodi) October 5, 2015
He added, "India represents a bright spot for investment. We are sailing in the right direction. We cannot afford to be complacent. Our initiatives, the sentiments for private and foreign investments have been positive. Many international financial institutions like World Bank and IMF have predicted faster growth for India."
Investments galore for India
A total of 18 Memorandums of Understanding were signed between the two nations in diverse fields ranging from solar sector, industrial investments, clean energy and more.
It makes strong business sense to be in India and to 'Make in India', emphasised Modi. As India is on the threshold of a big IT revolution, the nation is well prepared to absorb technology and investment from outside.
A total of five business-to-business agreements were signed to boost cooperation between the two countries.
Promoting Indo-German collaboration. 5 B2B Agreements exchanged in presence of PM @narendramodi & Chancellor Merkel pic.twitter.com/a5dyVUKLSv

— Vikas Swarup (@MEAIndia) October 6, 2015
Citing the profound partnership and the significant cooperation between the two countries, Modi said, "We see Germany as a natural partner in achieving our vision of India's economic transformation. German strengths and India's priorities are aligned."
India and Germany signed deals worth $2.25 billion (approximately Rs 14,600 crore) on German investments in developing the green energy corridor and solar projects and India. This comes at a crucial time, ahead of the decisive UN climate change talks scheduled to be held in Paris in December.
To further strengthen its presence in India, Bosch said it plans to invest Rs 650 crore (over 100 million euros) in 2015.