J Jayalalitha broke a three-decade-long trend when her party, All-India Anna Dravida Munnetra Khazagam (AIADMK), emerged victorious in the elections to the Tamil Nadu Assembly.
The southern-most state of India has been yo-yoing between arch-rivals AIADMK and Dravida Munnetra Khazagam (DMK) since the mid-1980s. Going by that, this was the turn of Jayalalitha's bete-noire, DMK head M Karunanidhi to claim the CM's chair.
Read- Election Results 2016: Karunanidhi wins Tiruvarur constituency, son Stalin retains Kolathur
In fact, the nonagenarian leader recently underscored that it would be he who would be the CM if DMK wins. His son, 63-year-old MK Stalin, would have to wait it out.
Jayalalitha, however, brought to nought his dream of a sixth term at the state's helm - AIADMK was set to bag 133 of the state's 232 seats, at 4 pm. DMK could boast of only 88.
Evidently, anti-incumbency didn't hit 'Puratchi Thalaivi' Jayalaitha's government too hard. Of course, her tally has reduced from 203 in 2011; but that's about it.
Here are five key takeaways from the decisive mandate:
1) Corruption charges couldn't dent Jayalitha's popularity much: She was sentenced to four years in prison by a special court in Bengaluru in the Disproportionate Assets Case on 27 September, 2014 and had to vacate the chief minister's chair until the Karnataka High Court acquitted her on 11 May, 2015. In the meantime, O Panneerselvam - a Jaya confidant - kept the hot seat for her.
2) Welfare state pays. Both AIADMK and DMK have resorted to so-called populism to its citizens and have been panned by critics for doing so. Jaya took it to another level this time with Amma Water, Amma Canteens etc. Yes, prices of milk did go up as did bus fares, but they couldn't take the sheen off well-thought out schemes.
Also read- Tamil Nadu election results 2016: Jayalalithaa says all promises in manifesto will be fulfilled
3) DMK is yet to find its credibility back as a viable alternative to govern the state. This is the third electoral failure in a row for the party, after the drubbing it received in the 2011 Assembly polls and the 2014 parliamentary elections. The fact that Karunanidhi had to come out and say that he would be the CM, and not Stalin, indicate confusion within the party. Stalin's rivalry with elder brother MK Alagiri didn't help matters much. Also, people were still wary of the party's alleged involvement in the telecom scam.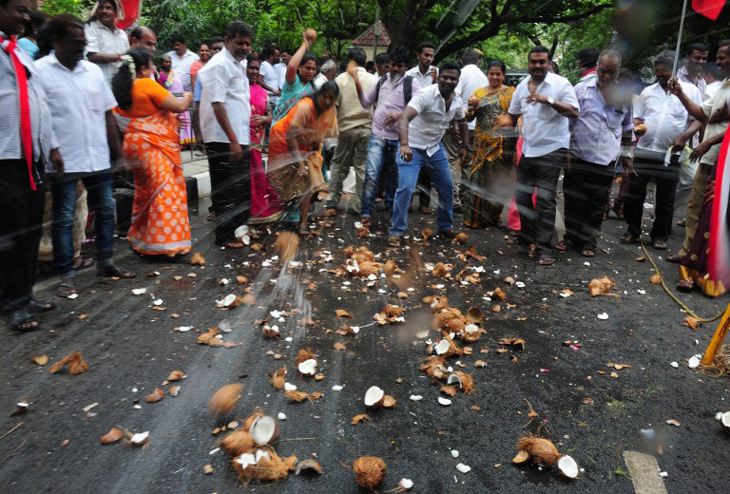 AIADMK members break coconuts to celebrate their victory. Photo: Arun Sankar/ AFP Photo
4) Despite DMK's defeat, this was more of a two-way contest than expected. Eventually, AIADMK and DMK shared most of seats between them, which spelt doom for other parties such as:
* Captain Vijayakanth's Desiya Murpokku Dravida Kazhagam
* Former Union minister Vaiko's Marumalarchi Dravida Munnetra Kazhagam
* Pattali Makkal Katchi of the Ramadoss father-son duo
* Viduthalai Chiruthaigal Katchi of Thol Thirumavalavan
While PMK managed to win a seat, the others couldn't open their account. Cinestar Vijaykant was himself placed third in Ulundurpettai seat. Surprisingly, the Indian Union Muslim League and Puthiya Tamilagam won a seat each.
5) The regional parties continued to be in the fringes in the state whose politics has been dominated by the Dravidian parties for half a century now. This time Indian National Congress retained more than 6% votes and eight seats while Bharatiya Janata Party could manage about 3% but NDA lost its deposit in 230 of the 232 seats. The Communist Party of India and the Communist Party of India (Marxist) both managed less than 1% vote and no seats at all.
More in Catch:
Trump may not love China, but the Chinese internet sure loves him
The bare truth: mass nude photographer set to expose Trump's politics
India's shame: Bundelkhand woman eats mud for 12 years to survive
Fake lawyers: crooks in black coats face Supreme Court crackdown