S Murari
| Updated on: 10 February 2017, 1:50 IST
For DMK president M Karunanidhi and and Tamil Nadu Chief Minister J Jayalalithaa the May 16 elections to the Tamil Nadu Assembly are a do or die battle.
Karunanidhi is 90 plus and wheel-chair bound. Though immobile, he is mentally agile. So it is perhaps his last chance to become chief minister.
Though Jaya is in her mid-sixties, she is yet to recover fully from the shock verdict of September 2014 by a special court in Bengaluru that found her guilty of having amassed wealth disproportionate to her known sources of income.
Read: Karunanidhi to seek re-election from hometown, Stalin from Chennai
It led to her instant disqualification as MLA and, therefore, Chief Minister and immediate imprisonment. It is a different matter that she eventually got bail, moved the Bengaluru High Court and got an acquittal by Justice Kumarasamy in March 2015. This enabled her to resume office after winning .
She has never been the same since then. It has seriously affected her health. So much so that when she got her new ministry ushered into office, she waived protocol and got the Governor to swear in the ministers in batches.
Thereafter, she withdrew into a shell. So much so, she did not come out even when Chennai was devastated by the worst ever rains and floods in December last year.
Of course, she has now bounced back and is on the campaign trail.
But the battle for her is far from over. As the government of Karnataka, where the case was transferred on an appeal by DMK general secretary K Anbazhagan, has gone on appeal against the Kumarasamy judgment in the Supreme Court, calling it a travesty of justice.
The Supreme Court has concluded the hearing and judgement is expected any time, though it may not come before 16 May.
Also read- Cheatsheet: Here's all you need to know about the Tamil Nadu election
With that sword hanging over her head, Jaya has to pit the people's mandate against a possible adverse court verdict against her.
Viewed in this perspective, the game plan of the two antagonists becomes clear.
To maximise her victory, Jaya has put up candidates in all the 234 constituencies. Even in the 7 seats allotted to minor allies, she has forced them to contest under her party's two-leaves symbol.
Jaya is optimistic, falsely, because she had on her own strength led her party to massive victory in the 2014 Lok Sabha election, winning 37 seats out of 39.
Karunanidhi's game plan
Karunanidhi has, on the other hand, given away 61 seats and kept 173 for his party to make it a broad-based alliance.
Initially, he had only Congress as an ally. When the two came together, Karunanidhi's eldest son Azhagiri called a shameless alliance as the two parties has called each other names as recently as January 2014.
The wily Karunanidhi did not want the Congress moving towards Jaya as it did in 2001. This had led to her return to power back then, even though she was disqualified from contesting because of her conviction in 2 corruption cases.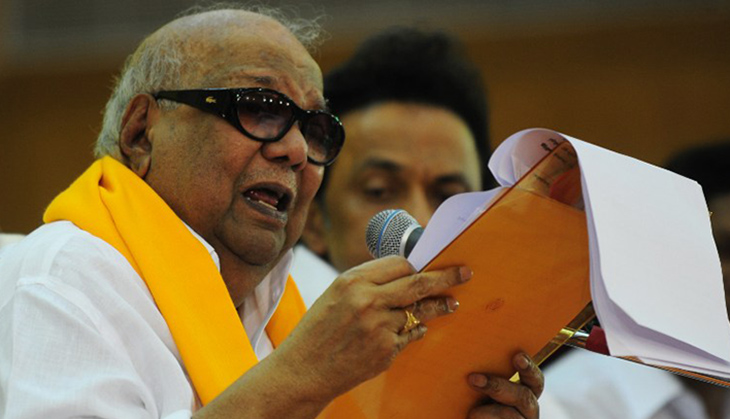 Photo: Arun Sankar K/ AFP Photo

Of course, he did not bother about the BJP, the other national party, as it matters little in state polls.

Past elections have shown that winnability does not depend on the number of seats a party contests.

In 2001, DMK had contested 183 seats and yet lost as Karunanidhi was the incumbent back then. In 2006, it contested only 132 seats and yet won because people wanted to vote out Jayalalithaa.

In 2011, the DMK contested only 124 seats. DMK was routed and Jaya stormed back to power. The DMK's tenure from 2006 to 2011 saw massive corruption and family domination, exemplified by the 2G scam in which Karunanidhi's daughter Kanimozhi and Minister A Raja are the prime accused.

Jaya is now harping on the memories of the DMK's tenure.

But Jaya's track record in the last five years has been no better as her government has come to be known as 40% commission sarkar. And there has been no governance either except for freebies like Amma canteen, Amma mineral water and so on.
Vijayakanth: the third player
A significant factor in this election is the emergence of a viable third alternative. Vijayakanth of the DMDK has cobbled together a six-party alliance comprising the MDMK of Vaiko, Tamil Manila Congress of GK Vasan, Viduthalai Chiruthaigal Katchi of Thirumavalavan, and two Communist parties.
He restricted himself to only 104 seats and given away the rest to the 5 parties, equitably shared. Vijayakanth's alliance is going hammer and tongs against Karunanidhi and Jayalalithaaa.
Neither of the big players likes the emergence of Vijayakanth. In 2011, Jaya helped Vijayakanth's DMDK win 29 seats. Then she split the party by enticing nine MLAs to her fold.
Read more- Tamil Nadu Assembly polls: AIADMK releases list of candidates, Jayalalithaa to contest from RK Nagar
This time, Karunanidhi desperately tried to rope in Vijayakanth to his side and failed. He then engineered a rebellion against Vijayakanth.. Now the rebels have joined hands with DMK and three of them have been given tickets.
Also in the fray is Anbumani Ramadoss of the Pattali Makkal Katchi. He is the only leader out of the two kazhagams who has administrative experience as he has served as Union Minister for Health. He is strong in the Vanniar belt.
Given this scenario, the election may throw up a hung assembly, forcing some sort of realignment.
Edited by Aditya Menon
More in Catch:
Prashant Kishor faces a Patiala peg of a challenge in Punjab
Watch: BJP's Sakshi Maharaj says women in Islam are treated like footwear
Following the BJP? Congress to set up its own version of margdarshak mandals
Poor little rich girl: what Priyanka Gandhi's rent money can't buy