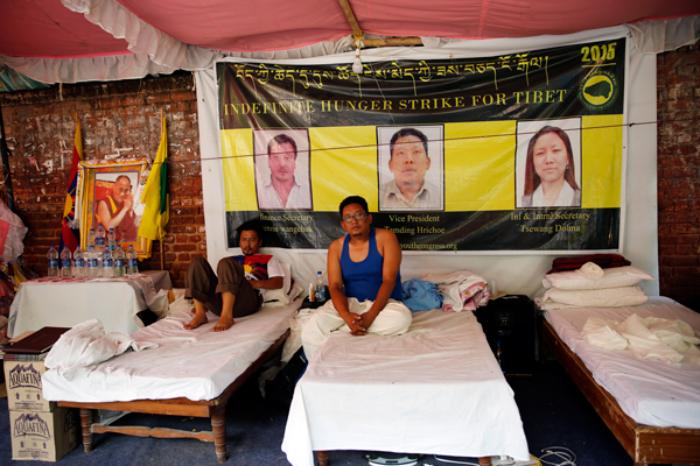 The members of Tibetan Youth Congress called off their indefinite strike on 11 October, after hearing from the United Nations on their demands. Tamding Hrichoe, Tenzin Wangchuk and Tsewang Dolma had sat down on an indefinite hunger strike at Jantar Mantar on 10 September 2015, seeking fulfillment of their demands for Tibet. Dolma was forcibly hospitalised on the night of September 30, while the other two continue their protest.
Assurance from UN
According to TYC, they have received a letter from UN Assistant Secretary General of the Office of the Human Rights Commissioner Ivan Simonovic, assuring that TYC's demand that the UN should take up the Tibet cause, will be addressed.
Also read: Day 29 of an indefinite hunger strike for Tibet. But is the UN listening?
In the letter, as per TYC, Simnonovic has also mentioned that the UN Secretary General Ban Ki Moon expressed concern for the health of the hunger strikers. The letter was reportedly delivered by Yuri Afanasiev,the UN Resident Coordinator and UNDP Resident Representative in India.
TYC President Tenzing Jigme said, "This is a huge victory for the Tibetan people." He added that, "The power of non-violence methods of resistance and the fact that when we come together and fight for our country as one - we win, is evident from this victory".
Under its demands, TYC has urged the United Nations to raise the issue of Tibet at its General Assembly and Human Rights Council Session and to address the demands raised by self-immolators in Tibet.
The TYC has also urged the inter-governmental organisation to ask China to provide evidence that the 11th Pachen Lama Gendun Choekyi Nyima - who has not been seen in public since being detained by China in 1995 - is alive.
The TYC also demanded that the UN send a fact finding delegation to Tibet and also urge China to release all Tibetan political prisoners.According to TYC, 149 people have set themselves on fire in protest of the illegal Chinese occupation of Tibet and demanding the return of His Holiness the Dalai Lama to the land.