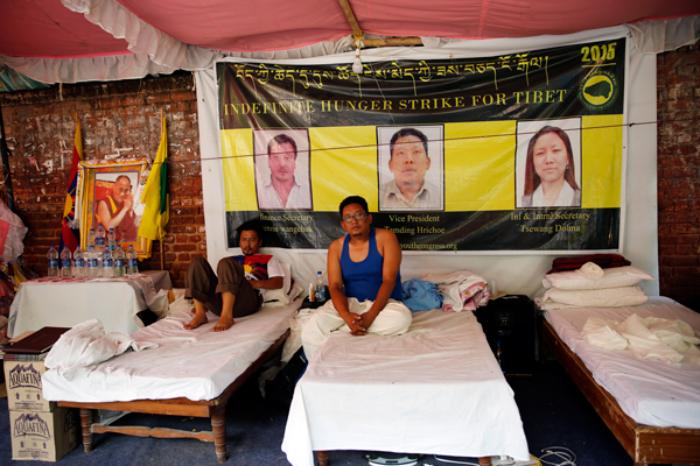 As Tamding Hrichoe extends his hand to greet me, I can feel the warmth that seems to emanate from his weak body. After responding to a few of my questions, he pauses and says, "Forgive me, I cannot talk much".
Hrichoe and two other members of Tibetan Youth Congress - Tenzin Wangchuk and Tsewang Dolma - sat down on an indefinite hunger strike at Jantar Mantar on September 10, 2015. Dolma was forcibly hospitalised on the night of September 30, while the other two continue their protest with resilience. The strike enters its 29th day today. The Tibetan Youth Congress members have been surviving on water alone.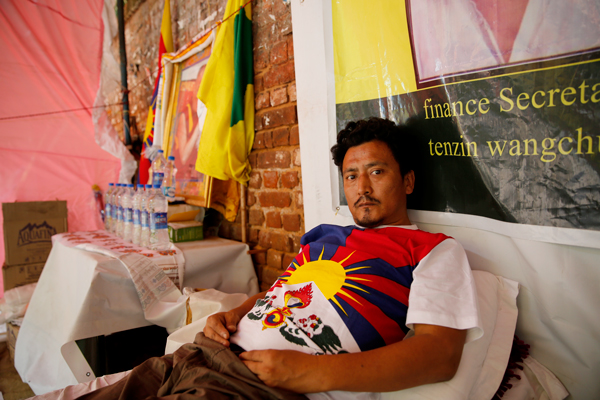 The Tibetan Youth Congress
Formally established in 1970, The Tibetan Youth Congress (TYC) is a worldwide organisation of Tibetans united in the common struggle for the restoration of complete independence for Tibet. Since its establishment, the TYC has emerged as the largest non-governmental organisation of Tibetans in exile, mobilising support from across the world. It has over 35,000 members in 88 chapters in close to 12 countries.
Their demands
According to the president of the TYC, Tenzing Jigme, the hunger strike is a part of campaign aimed at the United Nations, who, he believes, has a responsibility to speak up against the oppression of Tibetans by the Communist Chinese regime. Tibet had been under Chinese occupation since the 1950s.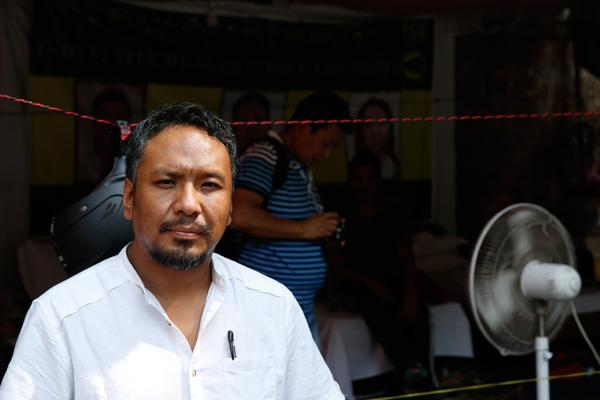 "Resolutions on Tibet have been passed at the UN General Assembly but the Chinese government is never held accountable for their actions," says Jigme.
He pulls out a book and hands it over to me. The book, titled Profiles of self-immolators inside Tibet in exile, documents heartwrenching accounts of 149 people who have set themselves on fire in protest of the illegal Chinese occupation of Tibet and demanding the return of His Holiness the Dalai Lama to the land. A total of 143 of these immolations, which date back to 1998, were carried out inside Tibet.
"This is what we are fighting for. We need world leaders to take note of this inhumane subjugation. Why are people being forced to burn themselves? Doesn't the UN General Assembly and the Human Rights Council have a huge responsibility to reach out investigate the situation inside Tibet?" Jigme asks.
The TYC has also urged the UN to ask China to provide evidence that the 11th Pachen Lama Gendun Choekyi Nyima - who has not been seen in public since being detained by China in 1995 - is alive. The TYC also demands that the UN send a fact finding delegation to Tibet and to urge China to release all Tibetan political prisoners.
Is self-immolation the right solution?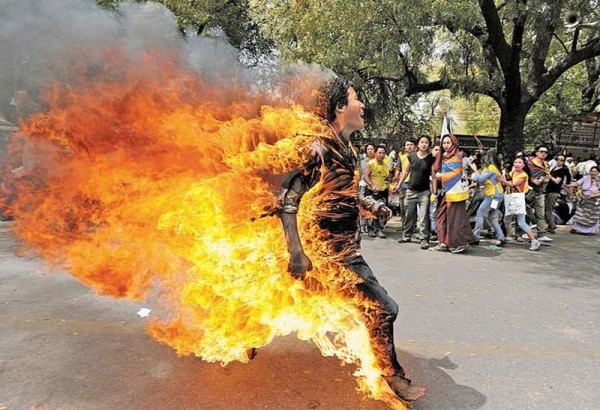 " People in Tibet have been ripped of their identity and religious freedom. What do you expect them to do under such an oppression? We cannot ask them to stop this. This is their right and their idea of protest to make the world take notice," says Hrichoe.
What after the Dalai Lama?
"The 80-year-old Dalai Lama has successfully driven the Tibetan struggle for freedom so far. But he has not been keeping well. After him there will be huge emptiness but that will not weaken our resistance," says Jigme.
"Since his holiness has given up his political powers, we are holding elections to elect our democratic leader who will be our global representative," he says.
However, there remains a larger concern about the spiritual leadership - which is under constant threat from Chinese interference - after the Dalai Lama. "His holiness will appoint a successor when the time comes but the Chinese government will never accept his decision for obvious reasons. We hope the issues will be resolved while the Dalai Lama is still among us so that the Tibetan population doesn't have to suffer any further."
Have not heard from the UN so far
Despite having attempted to contact senior UN dignitaries, including UN Secretary General Ban-ki-Moon, the TYC members have not heard from the UN so far. There has also been no response from the organisations' New Delhi office where the members have personally submitted their demands.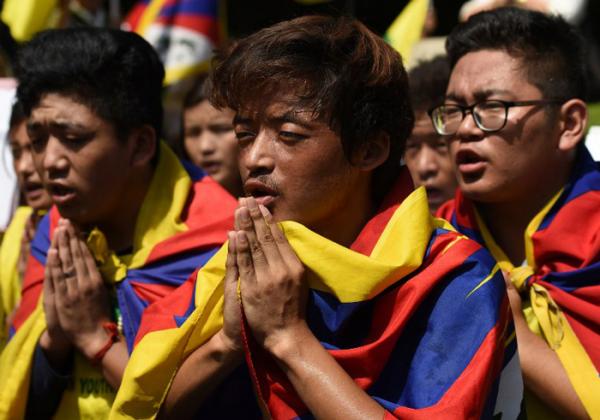 He belives that India is trying to keep a balanced approach in the issue sighting its relation with China.
"We have also written to PM Narendra Modi, Home Ministry Rajnath Singh and External Affairs Minister Sushma Swaraj but their offices have not replied," says Jigme.
However, a number of people have come forward to extend their support, including Union minister for Women and Child Development Menak Gandhi, former Uttarakhand chief minister Bhagat Singh Koshiyari, social activist Radha Bhatt, sociologist Ashish Nandy, Arya Samaj scholar Swami Agnivesh and student unions including the National Students Union of India and the Akhil Bharatiya Vidhyarthi Parishad.
"We are ready to die"
On being asked how long the TYC members plan to be on the strike, Wangchuk replies, "We are ready to die for Tibet."
"The people who can give their lives can take others as well. I do not know how long people will stick to the path of non-violence. There will come a saturation point when people will resort to violence and I am afraid that would turn into a global threat," says Wangchuk as he closes the conversation.
NOTE: In second part of the story we look at responses from Chinese Government and the United Nations.